Giancarlo Perlas
January 9, 2017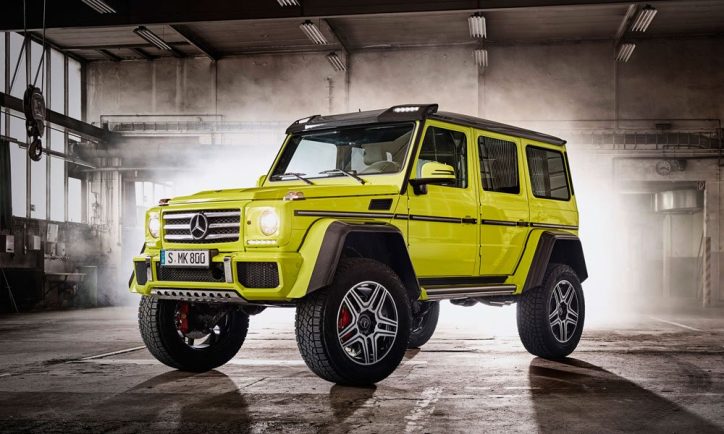 The 2017 Mercedes-Benz G550 4×4² will finally hit the US soil this year. No definite month has been revealed by its maker yet, but it is expected to arrive in the country's dealerships during the early part of this year.
Here are the top features of the G550 4×4² based on the press release of Mercedes-Benz USA:
Engine
The G550 4×4² carries the 4.0-liter biturbo V8 engine of Mercedes. The unit produces 416 hp and 450 lb-ft of torque. The power of the auto is paired with a 7G-TRONIC PLUS transmission system. MBUSA is yet to announce the other specs of the iconic SUV's engine such as its zero to 60 mph acceleration time and top speed.
For the sake of comparison, the G550 model boasts a 5.8-second run from 0-60 mph. The top speed of the auto is electronically-limited to 130 mph.
Design
The G550 4×4² shares the same G-Class platform of the rare, and no longer in production, Mercedes-AMG G63 6×6. The G-Class 4×4² shares many elements found in the boxy G550. Compared to the regular G550 though, the G550 4×4² has a higher ride height at 88 inches compared to the former's 76.9 inches. There is also an improvement in the ground clearance and fording depth of the vehicle as well as its approach, departure and brakeover angles.
Interior
The interior of the G550 4×4² is the same with the G550 too. Among the notable features in the SUV are its 8-inch COMAND infotainment system with satellite navigation as a standard fit.
Pricing
The MSRP of the G550 4×4² is yet to be announced. It should be noted that the 2016 G550 costs $119,900. The 2016 Mercedes-AMG G63 and G65 versions are at $139,900 and $217,900, respectively.