Giancarlo Perlas
November 12, 2016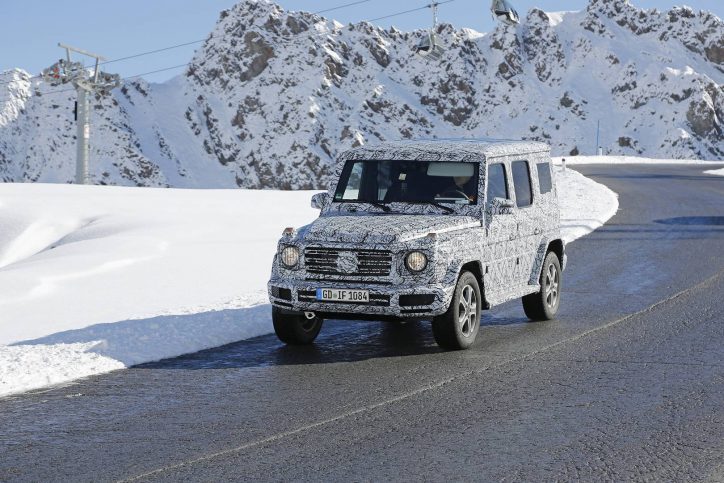 The official unveiling of the 2018 Mercedes-Benz G-Class seems to be drawing near. Recently, the prototype of the iconic SUV was seen in the Alps.
Spy photos of the 2018 G-Class under a heavy camouflage just surfaced online. The pictures were taken while the auto was undergoing winter testing in the mountains.
Here are the things we learned from the spy shots and our expectations for the upcoming G-Class:
1. Same Overall Appearance
The new G-Class will retain its classic boxy shape that has been its selling point over the course of 38 years.
2. Minor Upgrades
The 2018 G-Class will be wider by around 10 centimeters. Look forward to a longer body, new independent suspension, and electro-mechanical steering in the SUV.
3. Lighter Weight
The upcoming G-Class will likely shed off some of its weight to improve its agility. The auto might weigh 200 kilograms less than the current model.
4. New Engines
The 2018 G-Class will most probably benefit from the new selection of Mercedes engines. The likely candidate for the SUV is the new diesel-fed inline-six engine of Mercedes. If its maker goes in that direction, expect the new G-Class to carry at least 313 hp and 479 lb-ft of torque.
5. Unveiling
There is no definite date yet for the world premiere of the 2018 G-Class. However, reports say the vehicle might come out in the first half of 2017. It is possible that the auto might even debut in the first quarter of next year.
2018 Mercedes-Benz G-Class Spy Shots
Check out the photos of the 2018 Mercedes-Benz G-Class in the gallery below: