Giancarlo Perlas
November 7, 2016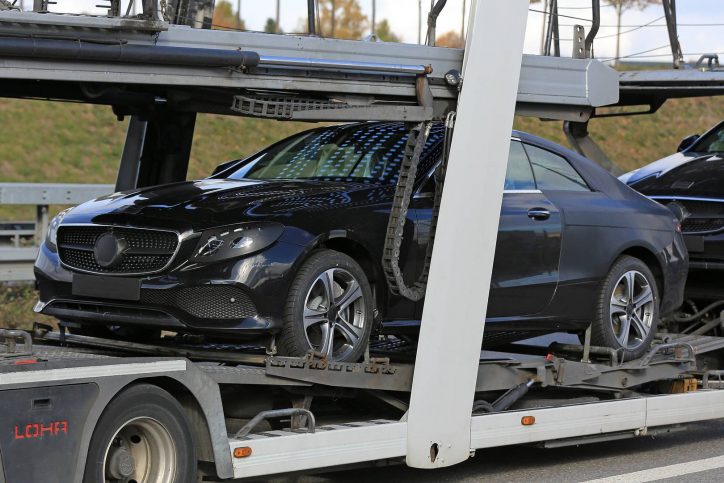 Mercedes-Benz just unveiled the Mercedes-AMG E63 saloon at the Los Angeles Auto Show. The car is poised for a market offering in March 2017. Recently, new spy shots reveal that the luxury automaker is preparing another E-Class variant in the form of the 2018 Mercedes-Benz E-Class Coupe.
The spy shots show the 2018 E-Class Coupe in a truck being transported. Surprisingly, the car does not have any camo. Only the lights, logo in the front grille, and glass at the rear passenger area are blacked out with a wrap.
Basically, Mercedes retains most of the design elements present in the E-Class sedan in the new coupe except for the absence of the B-Pillar and the revised back portion. After all, the coupe still utilizes the same MRA platform used by its sedan counterpart. The source said the auto possesses the "CL-like" appearance.
The wrapped areas indicate where the changes will take place. The source of the spy shots speculate that the headlamps and taillights of the new E-Class Coupe might be similar to the S-Class Coupe as they appear to be sharper than that of the C-Class based on the spy shots.
It is very likely that the 2018 E-Class Coupe will have an upgrade in the engine department. The new inline-six engine of Mercedes is a possible candidate.
The world premiere of the 2018 Mercedes-Benz E-Class Coupe is probably at the Detroit or Geneva Motor Show next year.
2018 Mercedes-Benz E-Class Coupe Spy Photos
Check out the photos in the gallery below showing the 2018 Mercedes-Benz E-Class Coupe with no camo: