Ryan Joseph Ramos
November 13, 2016
Lewis Hamilton won the 2016 Brazilian Grand Prix, and thus kept his title hopes alive. In a rainy afternoon at the Autódromo José Carlos Pace, Hamilton outraced his Mercedes teammate Nico Rosberg to stay alive in the championship quest heading into the final race of the 2016 Formula One season.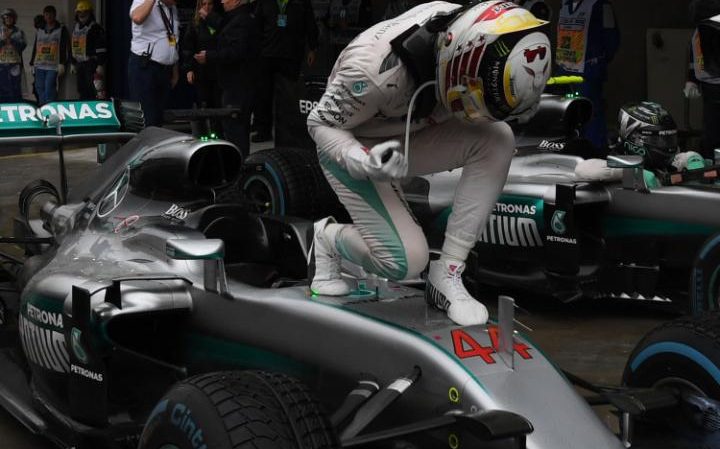 Rain persisted throughout the race, which led to repeated appearances by the safety car and also a couple of red flag situations. The race started under the safety car, and it would keep getting called back to the track because of the changing weather conditions. There were also two red flag situations in total, and at some point many doubted whether the race would be completed.
Of course, non-completion would utterly destroy Hamilton, because he certainly does not want half points being awarded in a situation he believed is good enough to continue a race. Good thing for him, things eventually got back on track and the race was finished.
Max Verstappen surged in the final laps to take third place and a spot on the podium. Sergio Perez finished fourth, while Sebastian Vettel was fifth. There were six retirements in total for the 2016 Brazilian Grand Prix.
Rosberg heads to Abu Dhabi with a mission: place third or better. That way, he will be a first-time Formula 1 champion outright. After all, he's still up 12 points, and a race win is only 25 points. Anything short of something failing would probably allow the German to win, but anything can happen on race day.
At least the forecast does not seem to be terrible once it's time for the Abu Dhabi Grand Prix. It will be in two weeks at the Yas Marina Circuit, and it should be another good race with everything at stake. It will be interesting to see how Hamilton responds to the challenge, and we'll see if Rosberg can win to leave no doubt about his championship bid.