Giancarlo Perlas
October 6, 2016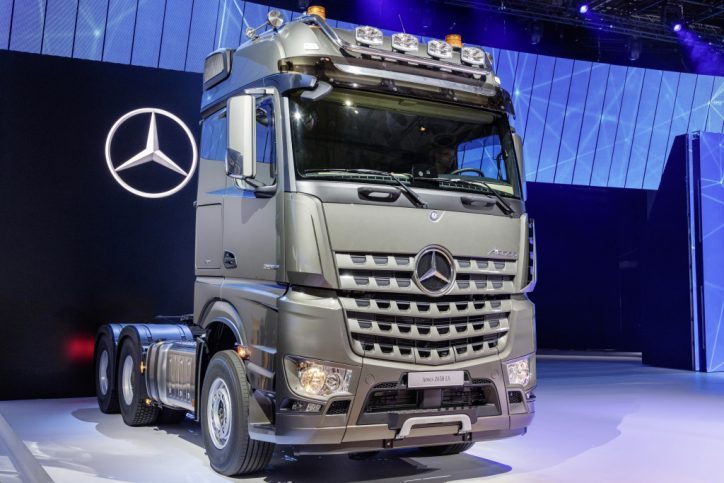 Mercedes-Benz presented a fleet of two-, three- and four-axle chassis, tractor units and tippers for the construction industry and ancillary trades at the 66th IAA International Motor Show. These models showed that Mercedes is ready to feature vehicles that are technically innovative and have advanced customer-oriented capacities.
At the center of the fleet is the Arocs, a specialist construction vehicle that is available in two-, three- and four-axles with drive configurations from a 4×2 to an 8×8.
The Arocs line covers all range of vehicles needed for building contractors. It has an Arocs Loader tractor unit and concrete mixer, as well as an Arocs Grounder for frequent off-road use.
Standard to the Mercedes-Benz Arocs are the heavy duty OM 470 and OM 471 diesel engines that have bern available since the IAA International Motor Show. But also part of the lineup are the OM 936 and the OM 473 engines.
New flagship versions are the Arocs "46" models with 460 horsepower OM 470 and the "53" models with 530 horsepower OM 471.
To answer the growing demand for eco-friendly vehicles, the six-cylinder in-line common-rail engines were optimized by infusing a wide-range of technical measures that will lower fuel consumption and will boost performance characteristics.
Among these measures are the new X-Pulse injection system with enhanced pressure boosting, an asymmetrical exhaust gas turbocharger produced in-house at Mercedes-Benz, and the use of new low-friction engine oils.
All of these, once paired with the Mercedes PowerShift transmissions, will be able to push down fuel consumption, so CO2 emissions should be reduced by up to 3 percent.
The Arocs using the OM 470, OM 471 and OM 936 engines are also approved to use the fuels to prEN 15940 standard without changes needed for their engines or peripherals.
The two- and three-axle versions of the Arocs with OM 471 engine rated at 421 horsepower or 449 horsepower can also use biodiesel fuel.