Giancarlo Perlas
October 15, 2016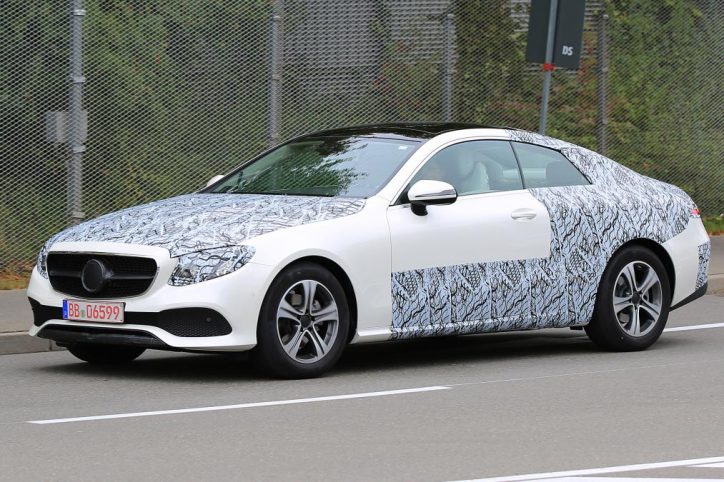 The Mercedes-Benz E-Class Coupe has been scheduled for launching in 2017. However, numerous spy shots of the car have already surfaced online. The latest images of the vehicle show it with partial camouflage, giving us a good look of most of its exterior features.
According to the source of the spy shots, the upcoming E-Class Coupe will compete with the BMW 6 Series next year. Since the E-Class sits between the S-Class Coupe and the C-Class Coupe range, it still noticeably carries many styling elements of the two.
Although the 2018 E-Class Coupe bears a strong resemblance with its saloon counterpart—as the two are based on the same platform—the coupe variant takes away the B-pillars of the saloon. The absence of the B-pillars make the coupe sleeker than the saloon.
The report speculates that the E-Class Coupe might  get a rear-wheel drive system. This will provide the car more space in its interior and more boot capacity.
The E-Class Coupe will likely have the same engine line-up present in the E-Class saloon. Therefore, expect the same four-cylinder engines for the car's petrol and diesel units. Of course, the E-Class Coupe will be highlighted by its AMG performance model. The Mercedes-AMG E 43 Coupe is a possibility too, which will bridge the performance gap between the standard Mercedes-Benz E-Class Coupe and the range-topping Mercedes-AMG E63 Coupe.
Lastly, the E-Class Coupe will most probably mirror the interior elements as well as the technologies available in the E-Class saloon like its pair of 12.3-inch displays in the dashboard and touch-sensitive controls.