Giancarlo Perlas
September 13, 2016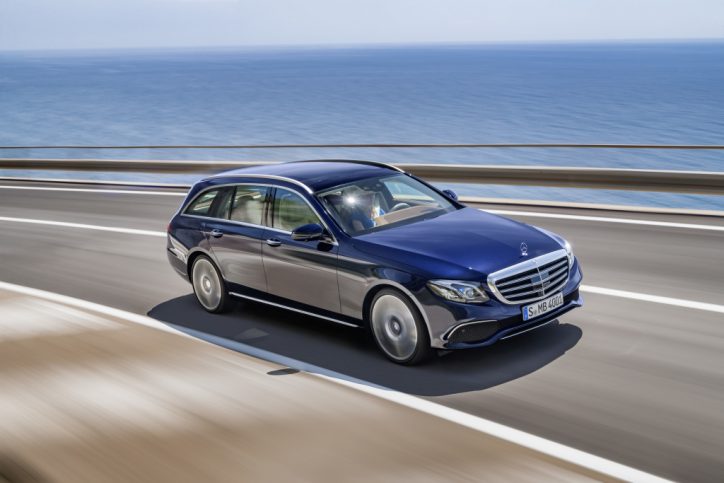 The Mercedes Benz E-Class Estate will be launched this autumn, and it is said to be the most intelligent of the Estate models that Merc has produced. With its dynamic engineering and new concept of space, the E-Class Estate is set to take over the auto industry in a few weeks from now.
Daimler boasts the E-Class Estate's cargo, which can hold up to 1820 liters, making it the favorite in its segment. And despite of a sportier roof line, passengers in the rear seats won't have to sacrifice as elbow and head rooms are the best in the class. Finally, what it has been lacking in years will arrive in late 2016 as this new Estate will have a third, folding row for the children.
Ola Källenius, member of the Board of Management at Daimler AG, said that the E-Class Estate is as "dynamic" as the Mercedes Benz brand and as spacious as their customers expect it to be.
The E-Class Estate will come in a choice of four-cylinder petrol models–the E 200 (135 kW/184 hp), E 250 (155 kW/211 hp), E 220 d (143 kW/194 hp), and E 200 d rated at 110 kW (150 hp). The E 220 d will come with the new four-cylinder engine while the arrival of the E 200 d at the last quarter of 2016 will be accompanied by the E 350 d with its six-cylinder diesel engine, as well as the E 400 4MATIC powered by a six-cylinder petrol engine with an output of 245 kW (333 hp) and a torque of 480 Nm.
When it is launched, all models will be packed with the new 9G?TRONIC nine-speed automatic transmission.
The first performance version that will come out in late 2016 is the Mercedes?AMG E 43 4MATIC Estate. So far, it is boasting of the powerful 295 kW (401 hp) 3.0?litre V6 biturbo engine, 9G?TRONIC automatic transmission with shortened shift times, AMG Performance 4MATIC all-wheel drive and model-specific sports suspension. All of these features will make sure of the E-Class Estate's elegant driving performance and agility.