Giancarlo Perlas
August 4, 2016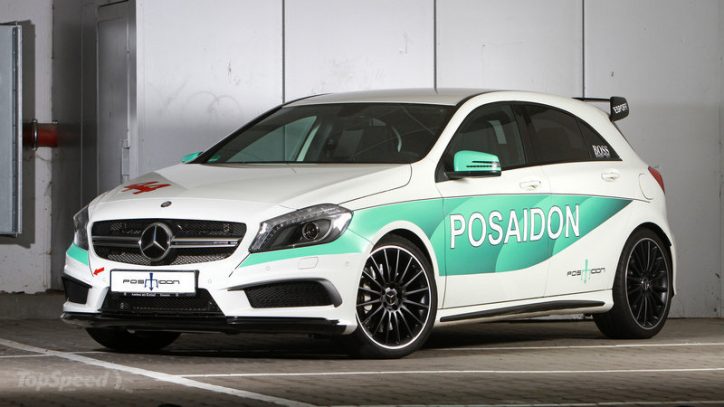 Tuning experts in Posaidon unveiled their latest aftermarket package for the facelifted 2016 Mercedes-AMG A45. They call it the "RS485+ program." The project focuses on giving the performance-level A-Class more power in the engine, and it also provides a couple of subtle visual upgrades to make it stand out more.
According to source, Posaidon retained the 2.0-liter inline-four turbo engine of the AMG A45. However, the tuner was able to crank up the output of the AMG A45 to 500 hp with 409 lb-ft of torque. The figures show a significant leap from the standard 381 hp of the hatchback matched with 350 lb-ft of torque.
As a result, the sprint of the AMG A45 from zero to 60 mph has been cut down to 3.5 seconds compared to its original 4.2 seconds from zero to 62 mph. Moreover, the top speed of the car is at 196 mph.
The tuner achieved the boost by replacing the turbocharger of the car with a ball bearing race version. This improves the gas flow of the engine. Other notable upgrades in the engine include new bespoke larger turbine, impeller wheels, gas-flowed scroll housing and intake system. The report noted that the said upgrades can be applied to other Mercedes units that utilize the M133 engine such as the AMG CLA45 and AMG GLA45.
Posaidon pointed out that customers can avail of their chassis and suspension upgrades that include racing stabilizers for better handling as well as spacers plus adjustable support bearings to complement the engine boost.
For the exterior, the tuner offers a large rear wing plus their signature decals. Lastly, buyers can get a new set of 18 to 21 inches of Evolution alloy wheels to top it all off.
Posaidon 2016 Mercedes-AMG A45 Photos
Enjoy looking at the photos of the 2016 AMG A45 with Posaidon's RS485+ package in the gallery below: