Giancarlo Perlas
June 17, 2016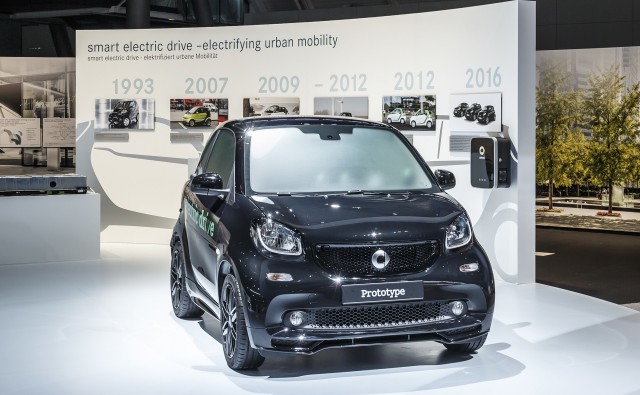 It was Smart that became the first of mainstream automakers to introduce an electric car late last decade. The name of that car was the ForTwo Electric Drive, and it was met with a lot of trepidation since the industry wasn't really ready for an electric-powered vehicle.
The third generation ForTwo arrived last year, but the electric version was noticeably absent from the range. Luckily, there's no need to fret because the new ForTwo Electric Drive will soon arrive.
Smart just confirmed the new version of the ForTwo electric version will make its debut at the 2016 Paris Auto Show in September. This time, every model in the Smart lineup will come with an electric-powered option. There's also going to be a ForFour sold overseas.
All three in the Smart lineup will pack the same electric motor, which would be sourced from a Renault plant in northern France. Renault, a French automaker, is an alliance partner of Daimler, Smart's parent company. It was also responsible for the production of the ForFour model.
Making them even more power efficient is the sourcing of cars' batteries from Daimler subsidiary Deutsche Accumotive, the same company that is poised to supply batteries for Mercedes-Benz's new fleet of electric car.
So far, no technical details have been released about the new ForTwo, although we are expecting some improvements from the outgoing ForTwo Electric Drive. The current model produces 74 horsepower and has an EPA-rated range of 68 miles.
Right now, what Smart can reveal is that the new ForTwo will pack some major improvements in terms of charging. Say, can we expect longer performance from a shorter time of charging?
Potential and interested customers in the United States can expect the new ForTwo Electric Drive to arrive by the end of the year as Smart has just confirmed the car's presence in America as a 2017 model.