Giancarlo Perlas
June 16, 2016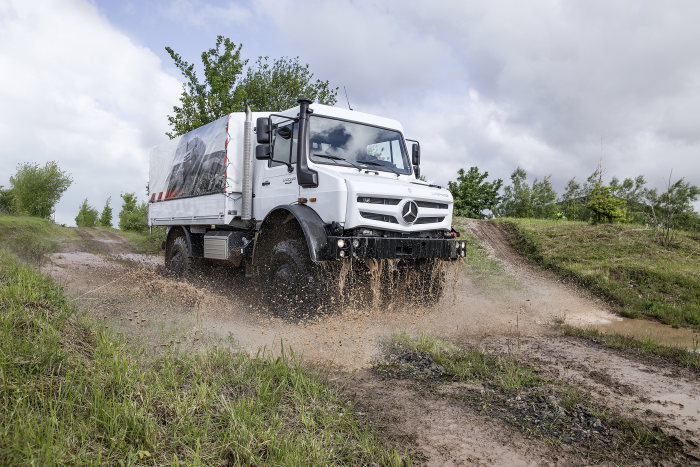 Rugged terrains, slippery paths, harsh weather, shallow river crossing and other extreme environmental conditions, it does not matter because the Mercedes-Benz Unimog can conquer them all. Recently, the Unimog was awarded the "Cross-Country Vehicle of the Year" under the "special-purpose" category by "Off Road" journal.
According to Daimler, Off Road conducted a poll to determine the winner the best cross-country vehicle of the year. There were 12 categories that include the special purpose vehicles segment. There were 126 vehicles to choose from, and a total of 85,080 votes were cast by readers.
The Unimog stood out in the special-purpose vehicles category, bagging nearly half of the votes. It had 43.3 percent votes in its favor. The source claimed that it is the 12th time for the Unimog to get such distinction.
What Makes the Unimog Awesome?
The Unimog Euro VI features a mid-engine layout. That gives the truck a high ground clearance with a fording depth of 1.2 meter. Models U 4023 and U 5023 also have lower center of gravity giving them a climbing ability of 45 degrees and a lateral inclination angle of up to 38 degrees. The axle articulation of the auto is at 30 degrees too.
The power unit of the Unimog is a BlueTec 6 common-rail OM 934 LA engine with four cylinders and a displacement of 5.1-liter. The output of the engine is at 230 hp and 900 Nm of torque. The carrier model series of the truck, namely the U 216 to U 530, have Euro VI engines that produce 299 hp.
Other elements present in the Unimog are all-wheel drive system, differential locks, and tyre pressure control system called "Tirecontrol Plus."