Giancarlo Perlas
June 20, 2016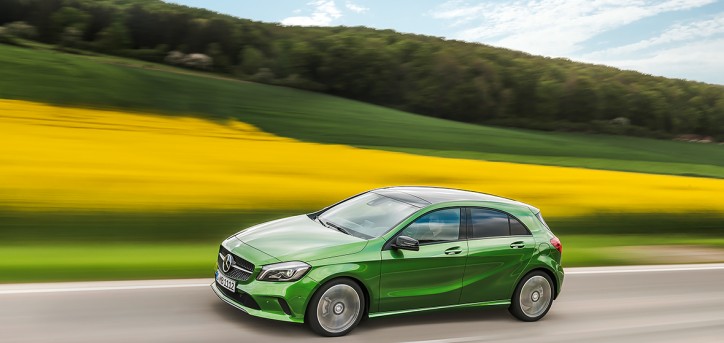 The Mercedes-Benz A-Class is the most anticipated Mercedes compact hatchback. The company aims to target younger urbanites to its compact sedan that has a sleek exterior and elegant interior.
It didn't disappoint.
The A-Class is practical, functional and good-looking. Mercedes has finally turned the A-Class into a real contender, taking pride on its more conventional five-door hatch compared to the Audi A3 and BMW 1-Series.
The 2016 mid-cycle refresh did little in exterior and interior design, and the engine stays the same save for some minor improvements.
On the outside, the 2016 Mercedes A-Class looks similar to its predecessor, except for the redesigned bumpers, a slightly more upright grille, and restyled LED headlamps. At the rear, there's also a redesigned bumper with integrated exhaust tips and revised LED taillights.
Inside, the upgrades are minimal. New features include a revised instrument cluster with new dial graphics, and a free-standing display that has a larger, eight-inch screen.
The A-Class has a total of four engines and 12 trim levels, most of which are similar to its predecessor. The gasoline range, the A160, has a 1.6-liter, 4-cylinder that can produce 102 horsepower and 132 pound-feet of torque.
On the other hand, the A180 and A180 Blue Efficiency Edition will both feature the same 1.6-liter four-cylinder that generates 122 horsepower and 147 pound-feet of torque.
The A200, meanwhile, packs 156 horsepower and 184 pound-feet of torque.
The diesel range has a 1.5-liter, 4-cylinder that comes in three variants: the A160 produces 90 horsepower and 177 pound-feet of torque while the A180 and the A180d Blue Efficiency Edition can come up with 109 horsepower and 192 pound-feet of torque, respectively.
The A250 Sport is the quickest of the lot, going 0-62 mph in just 6.3 seconds.
Pricing starts at $27,268.