Ryan Joseph Ramos
June 19, 2016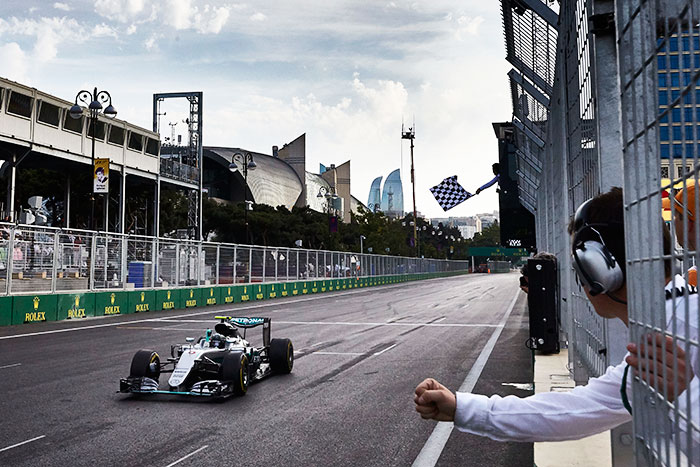 Mercedes AMG Petronas driver Nico Rosberg was able to pad his lead a bit after seeing it evaporate in the past few races. The point leader took home the win at the European Grand Prix, scoring the maiden victory at F1's newest track at the Baku City Circuit in Azerbaijan.
Sebastian Vettel of Ferrari secured second spot, while the final podium slot was taken by Force India's Sergio Perez, who recovered from a gearbox-change five-place grid penalty after posting the second-fastest qualifying time.
The other Mercedes of Lewis Hamilton managed to go from a P10 start to a fifth-place finish, but it could've been higher had it not been for the new radio communication restrictions that really limited the information that the team can relay to its drivers. It made for some funny exchanges, particularly from Hamilton and Ferrari's Kimi Raikkonen, but for sure the drivers are not amused.
Radio Mercedes:
HAM: "You guys have to reset this thing!"
Box: "The problem is the current mode you are in"
HAM: "No idea what you mean"

— RTP Mundial de F1 (@f1rtp) June 19, 2016
"It's difficult," said Niki Lauda. "In this case it was a discussion of engine modes and we can't tell [our drivers about it]. The problem was one both cars had but Nico fixed it quicker than Lewis. I don't want to blame Lewis."
Rosberg, though, should be thrilled. After cruising to the win–he was well over 16 seconds clear of Vettel–he now leads the drivers' standings by a relatively comfortable margin, 141 points to Lewis's 117, with Seb in third with 96. Being the first guy to win in a country's Grand Prix should be great, too.
In any case, the first F1 race in the street circuit of Baku seemed to be a great success, and it proved to be a fairly fresh and exciting race.