Ryan Joseph Ramos
June 18, 2016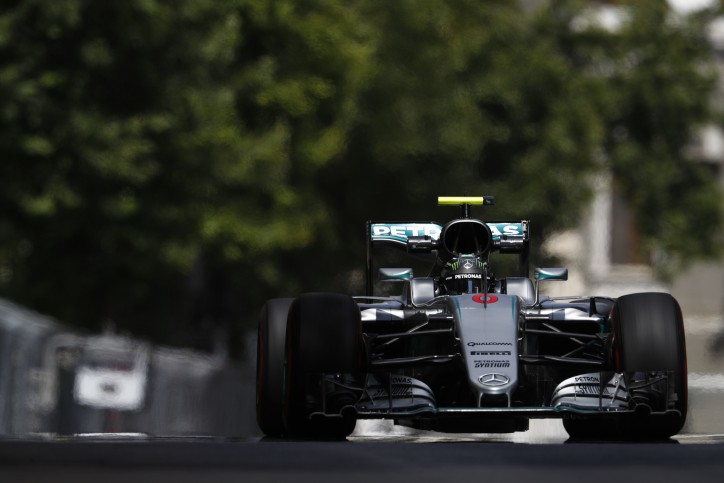 Nico Rosberg should be feeling a bit better now. The points leader so far in the 2016 Formula One season has had his lead slashed from 43 down to just nine, but he will get a boost at the European Grand Prix after qualifying in pole position. What's more, his Mercedes teammate Lewis Hamilton ran into problems and hit a wall in Q3, resulting in a red flag for the session and a P10 start for Hamilton.
This was after Hamilton made light of the difficulties that drivers were pointing out about the new street circuit in Baku. He had the right to up until FP3, though, posting dominating times. But the defending world champion claims the team had made an overnight change in his car, which led to the driver not having the kind of rhythm that he had the previous day.
"It's a fine line between being on it and not being on it – and I just wasn't on it today," Hamilton said. "I had a fantastic rhythm yesterday but none whatsoever today."
Rosberg was quick to defend his teammate, adding that Hamilton had the ability to come back from deep in the grid and saying that a 1-2 finish is still quite possible for Mercedes.
Rosberg said that F1's newest track offered "one of the more challenging sessions out there." He added that it all worked out and that the team had been building up to pole all weekend. He described his qualifying session as "really optimum."
Force India's Sergio Perez was the darling of qualifying, posting the second-best time but had to give up five places as penalty for a gearbox change. He will start in P7. Moving up the grid is Red Bull's Daniel Ricciardo in P2, Ferrari's Sebastian Vettel in P3,  the other Ferrari of Kimi Raikkonen in P4, Williams' Felipe Massa in P5, and Toro Rosso's Daniil Kvyat in P6.
Rounding out the first 10 places in the grid are Williams' Valtteri Bottas, Red Bull's Max Verstappen, and finally Hamilton.