Giancarlo Perlas
June 3, 2016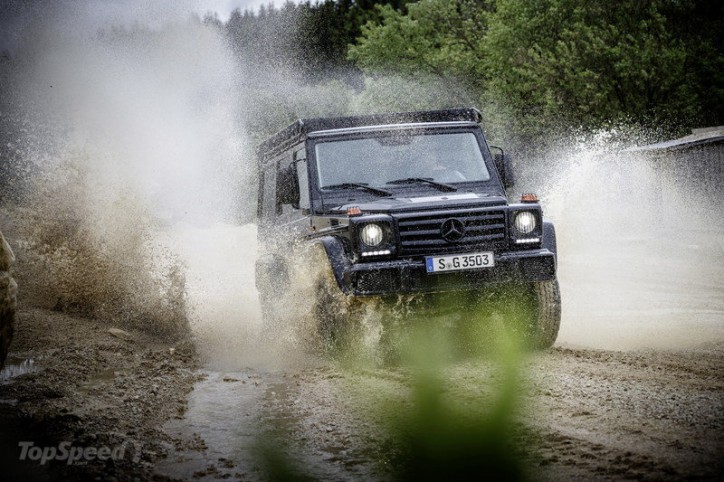 The 2017 Mercedes-Benz G350 Professional is replacing the G300 CDI, and is essentially the updated version of the G-Wagen Professional. It's the rugged and utilitarian version of the G-Class minus the leather and Alcantara-lined interior or the AMG engines.
The exterior of the G350 Professional is as rugged as it comes. Its all-black color scheme takes that ruggedness a notch higher, along with the 16-inch wheels with all-terrain tires.
You can choose from a wide variety of colors aside from black. There are two non-metallic finishes and 11 metallic colors available. But aside from these interesting mix of colors, the G350 Professional also packs protective side steps, protective guards on the headlights and turn signals, and the roof-mounted cargo rack with a rear-mounted access ladder.
Other exterior details are old-school towing mirrors and an optional steel bumper. At the back, you'll find a tow hitch and twin recovery hooks, thanks to the splitting for the rear steel bumper.
The outside might look like the outgoing G300 CDI Professional, but there's nothing similar inside the G350 Professional. The W461 Series has been replaced by the ultra-modern W463 Series, bringing the G350 Professional in line with the other G-Class.
The series includes four-spoke, multifunction steering wheel, dual analogue gauges with driver info screen, a modern center stack and a console area. The center stack has more functions that you can do with—a modern radio head, satin chrome buttons, and dual-zone climate controls.
The chairs made do without leather and Alcantara for cloth. The floor is covered in rubber mats.
A rugged vehicle such as the G350 Professional means it has to carry as much cargo as it can. The rear cargo area has a wooden cargo floor that can slide out for easy loading. There's also a metal cargo barrier behind the second row to protect passengers once roads get rough.
The G350 Professional has a starting price of $89,500. Orders started on June 1.
Photo Source: TopSpeed