Giancarlo Perlas
May 24, 2016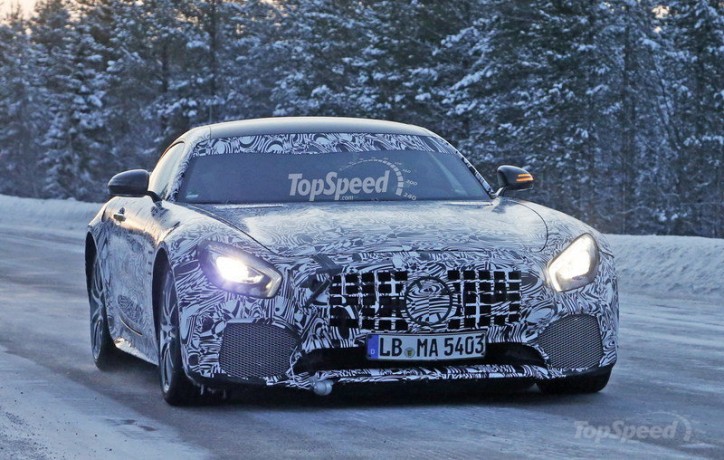 When Mercedes-AMG CEO Tobias Moers announced that a model will be released, and it's slated to sit above the Mercedes-AMG GT, many dubbed the new model as the Mercedes-AMG GT R. But there would be a conflict, considering that we already have the Nissan GT-R.
Although this model will be positioned above the Mercedes-AMG GT, it won't be the top ranging model because a full-fledged Black Series model will probably be out in the future.
Until then, we have to content ourselves with these new spy shots and the promise of a summer release. Although the GT R won't have such big upgrades from the GT, it will still have changes that would make it quite unique.
These spy shots were taken while the GT R is being tested in the snow. A previous rendering proves what we know so far—that it would have a more open front grille and larger corner intakes up front.
On the side, the rendering said the GT R will have similar fender vents. These were not shown on the prototype just yet, or maybe they were covered by the camo? What we did see on the prototype is that the GT R would have more aggressive side skirts that will feature large, oval vents toward the rear.
We have yet to experience the full impact of how GT R will look like. Once the camo comes off, I'm sure we will be wowed further.
The interior of the GT R won't be far off from GT or the GT S. We're expecting to see the large, high-mounted center console and the infotainment screen above the four, center-mounted HVAC vents. There are high expectations for the Merc's interior, and maybe they would surprise us with an even better interior than we imagined.
As for the drivetrain, there are rumors that the V8 currently on the GT will be upgraded to deliver 570 horsepower and up to 552 pound-feet of torque. The GT R will probably hit the 60 mph benchmark in 3.4 or 3.5 seconds.
You want prices? The GT R might go as high as $140,000 to $150,000.