Giancarlo Perlas
May 15, 2016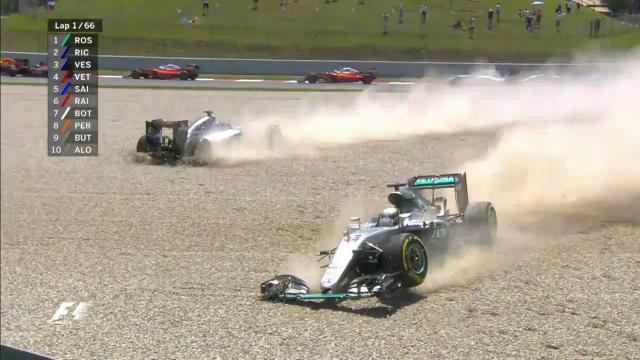 It could have been another dominant win for Mercedes AMG Petronas team in 2016 Formula One Spanish Grand Prix. The qualifying provided both Lewis Hamilton and Nico Rosberg a good start by landing on the first and second positions of the grid, respectively. However, hopes for another dominant win for the team were quashed when its drivers collided with each other just minutes after the race began.
The unfortunate event happened when Rosberg got past Hamilton on the first bend. Moments later, the reigning F1 champion tried overtaking his teammate from the inside. Rosberg tried blocking the move resulting to Hamilton hitting the grass. However, the Silver Arrow of the Briton spun and struck the car of the German along the way, which took them out of the race.
Niki Lauda, the team's non-executive chairman, pinned the blame to Hamilton, according to a report. The F1 legend said the current world champion became too aggressive. Despite his initial take on the matter, he pointed out that he still needed to listen to the explanation of each driver.
Toto Wolff, the motorsport director of the group, agreed with Lauda's observation. But he noted that there is also a fault on Rosberg's part. Therefore, he will have to wait for the decision of the stewards.
As of writing, the F1 stewards as well as Mercedes are still evaluating the situation. However, it is likely that Hamilton will be the one who will be reprimanded. Based on the rules of the sport, he risks getting a 10-place penalty in the upcoming Monaco Grand Prix.
The elimination of both Mercedes F1 cars from the race allowed Red Bull to snatch its first win for the season. The 18-year old prodigy Max Verstappen emerged triumphant in the race. He was followed by Ferrari's Kimi Raikkonen and Sebastian Vettel at second and third places, respectively.