Ryan Joseph Ramos
May 15, 2016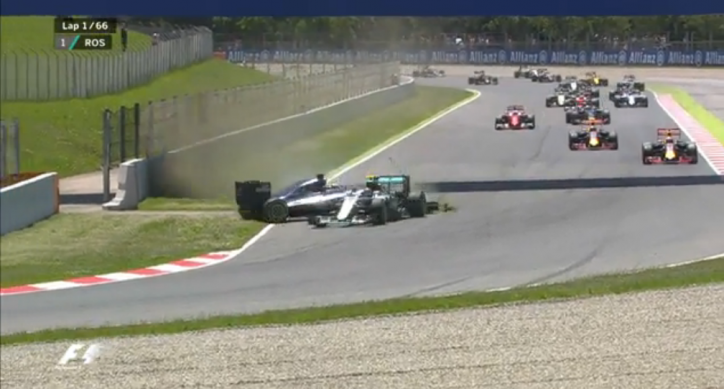 Well, that escalated quickly.
Lap one of the 2016 Spanish Grand Prix saw a Mercedes on Mercedes crash, taking out the top two contenders in the season so far. This paved the way for Red Bull's Max Verstappen to be the youngest race winner in Formula One history. 

Right after the start, Hamilton was able to get ahead of Rosberg but the German managed to snag back the lead by turn 3. Then, the proverbial sh-t hit the fan on the lead-up to turn 4. Check out the crash below; the carnage starts at around the 22-second mark of the video.
https://www.youtube.com/watch?v=HcTeQA2CM_4
Well, it's going to be hard to say because both guys were going at it really hard, but the blame will likely reside on Hamilton on this one. Rosberg was ahead and defended his position, and Hamilton tried to cut him but ended up grinding the grass before swiping his teammate's car from behind. However, some would point out that Rosberg was at fault for the manner with which he blocked Hamilton. We'll let the experts decide on this one.
Check out another vid, this time from Hamilton's POV:
Seeing the crash from @LewisHamilton's view… Who is at fault? #SpanishGP #beINF1 https://t.co/6owq3MjTn0

— beIN SPORTS (@beINSPORTS) May 15, 2016

Man, that was intense. We'll wait and see what sanctions or penalties occur here, but one thing's for sure: things are about to get heated between Rosberg and Hamilton once more. Rosberg was trying to tie Nigell Mansell and Michael Schumacher for the most victories to start an F1 season, but that opportunity was gone in the blink of an eye.
In the wake of the crash, Verstappen took home victory and becomes the youngest ever to do so, at age 18 years and 227 days old. That eclipsed the previous mark set by Sebastian Vettel (incidentally, also for Red Bull!). He also became the first Dutchman to win a race. Plus, he did it all in his Red Bull debut, barely a month into his promotion to the team from Toro Rosso. Amazing.
The Ferrari tandem took the remaining podium spots, as Kimi Raikkonen claimed second place and Sebastian Vettel took third.