Giancarlo Perlas
May 6, 2016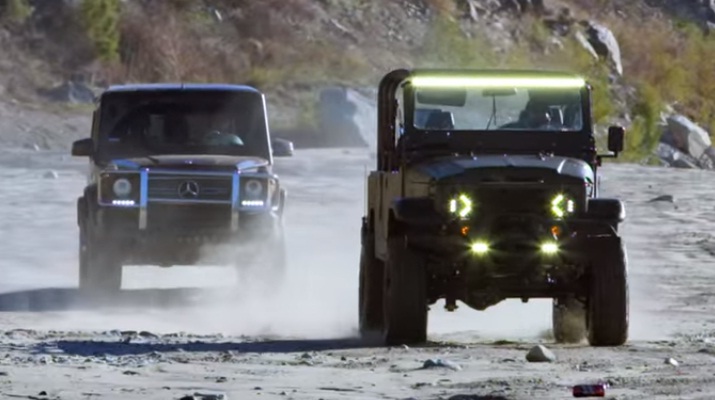 The 2016 Mercedes-AMG G65 and the 1973 Icon FJ44 almost have the same price. According to Motor Trend, the former costs $221,925 while the latter is priced at $222,000. That's just a $75 difference. Except their box-shaped bodies, these sport utility vehicles have features distinct from each other.
Jonny Lieberman and Jason Cammisa, both Senior Features Editor of Motor Trend, pitted the two SUVs in the 75th episode of its show called "Head 2 Head" to see which one is the better $222,000 vehicle. Both vehicles were driven in the sunny streets of Beverly Hills. Following that, the two were taken to over rough terrains outside the city.
Tale of the Tape
Before going to the video, let us take a look at the key features of each vehicle first. The 2016 Mercedes-AMG G65 packs a 6.0-liter V12 engine. It is capable of producing 621 hp and 738 lb-ft of torque. The power is distributed through a seven-speed automatic gearbox. The wheelbase of the SUV is 112.2 inches. Its curbweight is 5,913 lbs.
On the other hand, the 1973 Icon FJ44 possesses a 6.2-liter V8. It produces 540 hp and 495 lb-ft. The power is distributed by a four-speed automatic gearbox. The wheelbase of the SUV is 114 inches. Then the curbweight of the auto is 4,745 lbs.
Comparing the key features of the two, the V12-equipped AMG G-Class has more horsepower and torque. In addition, it has a better transmission. However, the Icon FJ44 has greater wheelbase and lighter weight.
The Video
To answer the question "Which one is the better $222,000 vehicle between the two," watch the video below: