Giancarlo Perlas
April 14, 2016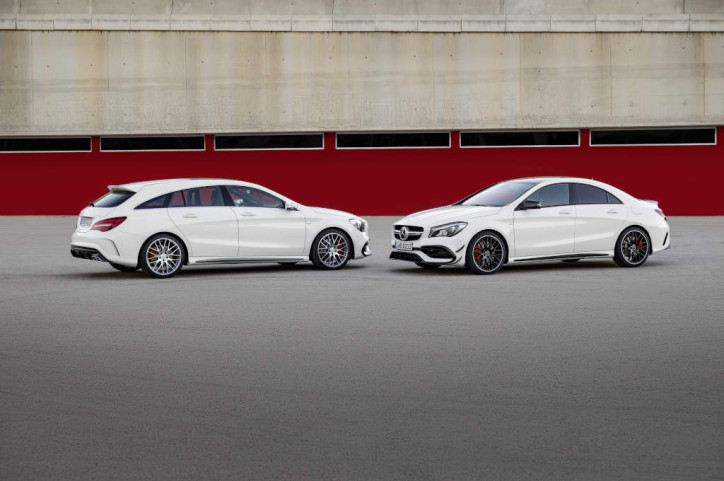 The facelifted Mercedes-Benz CLA Coupe and its Shooting Brake version are now available for order. Daimler just released information about the key specs of the cars as well as their pricing in its Global Media Site.
According to the company, the starting price of the latest CLA Coupe is at 29,250.20 euros in Germany, which already includes the 19% VAT. That is only 36 euros more than its predecessor. With that cost, you can already get the Mercedes-Benz CLA 180 Coupe.
The CLA 180 packs a petrol-powered 1.6-liter inline-four engine. The power unit produces a decent output of 122 hp with 200 Nm of torque. The acceleration of the car from zero to 100 km/h is nine seconds, and its top speed is electronically-limited to 210 km/h.
In a nutshell, the CLA Coupe and CLA Shooting Brake feature redesigned bumpers and diamond radiator grille. Light alloy wheels are also fitted in the facelifted models. The autos can be fitted with the optional LED High Performance headlamps too for 1,041 euros.
In addition, new seat upholstery and trim, chromed controls, and eight-inch display with cover glass adorn the interior. This is available as an optional add-on amounting 190.40 euros for the standard-fit Audio 20 USB, 59.50 euros for the Audio 20 CD, and integrated with COMAND Online for 3,522.40 euros.
HANDS-FREE ACCESS option comes included in the KEYLESS-GO Convenience Package too, which costs an extra 773.50 euros for the Coupe and 1,094.80 euros for the Shooting Brake models of the CLA. Furthermore, buyers interested in the optional Smartphone Integration package should be ready to dish out 357 euros.
The CLA line is highlighted by its Mercedes-AMG model, which is the CLA 45 4MATIC with starting price of 56,822.50 euros. The CLA 45 4MATIC Coupe has a 2.0-liter inline-four engine handcrafted by AMG. It allows the car to produce up to 381 hp and 475 Nm of torque. The acceleration time of the Mercedes-AMG CLA 45 4MATIC from zero to 100 km/h is 4.2 seconds with top speed of 250 km/h.