Giancarlo Perlas
March 17, 2016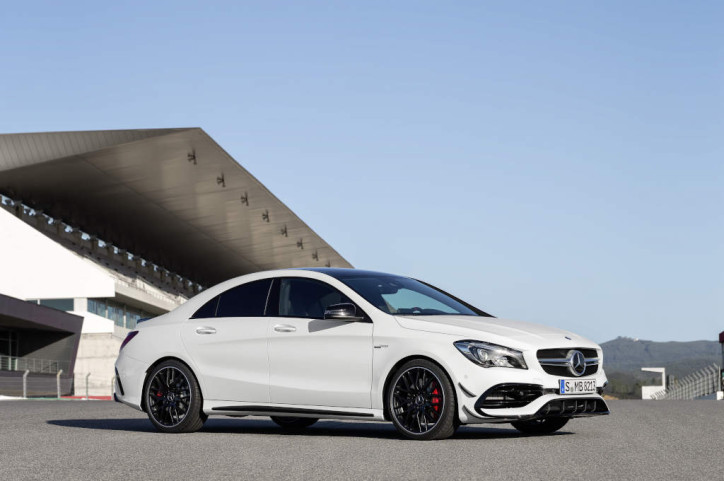 As we have reported earlier the Mercedes-Benz CLA Coupe and its Shooting Brake version each get subtle revisions in their appearances. To build up more hype for the cars before their official launching, their maker just released a promotional video through its YouTube channel.
Showcased in the one-minute video are the Mercedes-AMG CLA 45 4MATIC, Mercedes-AMG CLA 45 4MATIC Shooting Brake, and the Mercedes-Benz CLA 250 4MATIC Shooting Brake.
The video starts with the Mercedes-AMG CLA 45 4MATIC displaying the amazing work that the performance division of Daimler had done for it like its new bumpers, grille, lights, side skirts, lip spoiler, air intakes, boot lid spoiler, diffuser, tailpipes, wheels and badges. It gives viewers a glimpse of its piano black upholstery, sports seats, chrome accents and controls within the auto's interior too.
Then as soon as the lights turn to green, we all lay witness to what its 2.0-liter turbo engine with 360 hp and 450 Nm of torque is capable of. With its acceleration time from zero to 100 km/h in just 4.6 seconds and top speed of 250 km/h (electronically-limited), it is definitely quick.
Next, it shifts to the Mercedes CLA 250 Shooting Brake with a combined fuel consumption of only 6.9-6.7 l/100 km and combined CO? emissions at 158-154 g/km in its 2.0-liter turbo four-cylinder engine with a decent output of 210 hp and 350 Nm of torque.
The video finishes with the Mercedes-AMG CLA 45 4MATIC and Mercedes-AMG CLA 45 4MATIC Shooting Brake cars running side by side. Basically, the two are evenly matched because they carry the same engine with similar outputs as well as many other components, except the hatch in the rear of the Shooting Brake variant.