Giancarlo Perlas
March 17, 2016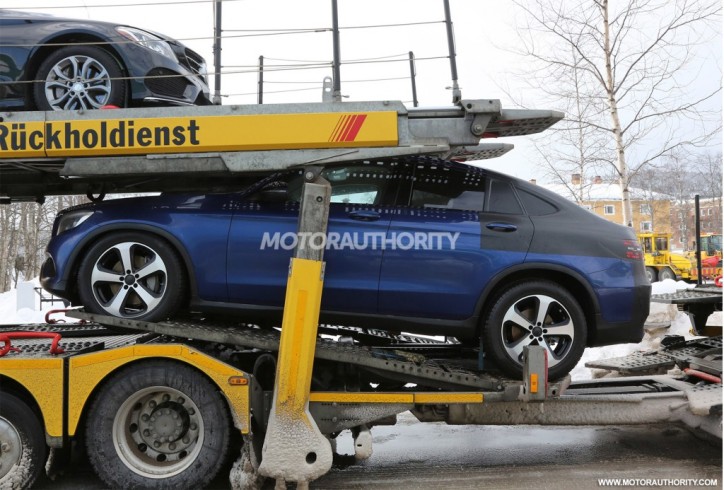 After successfully launching the Mercedes-Benz GLC in June last year at a special event in Stuttgart, Germany, the three-pointed star marque recently followed the lineup with the more powerful Mercedes-AMG GLC 43 4MATIC.
Now, we've been promised about the sexier and sportier coupe variant of the GLC since last year. As early as April of 2015, Mercedes-Benz unveiled its GLC Coupe Concept at the Shanghai Motor Show. Then in the next few months of that period up to the present, we have seen numerous spy shots of the SUV coupe circulating online.
Just a few days ago, another set of GLC Coupe spy photos surfaced again. The images provided by Motor Authority show the partially camouflaged auto being loaded into a truck for transport. It was not mentioned where the photos were taken or where it was going though.
According to the same source, we might see the Mercedes-Benz GLC Coupe as early as this March in the upcoming 2016 New York Auto Show. It is also possible that its debut will come in April at the 2016 Beijing Auto Show.
The Mercedes-Benz GLC Coupe follows the same signature look of the standard GLC, except the styling revision in the SUV coupe's rear end. Visually, it is certainly more appealing than the bulkier standard GLC.
The Mercedes-Benz GLC Coupe is expected to carry the same powertrains found in the bigger GLC. The standard model will likely come with the 2.0-liter four-cylinder engine with 241 hp and 273 lb-ft of torque. On the other hand, the Mercedes-AMG GLC 43 Coupe will probably carry the same 3.0-liter biturbo V6 found in the Mercedes-AMG GLC 43 4MATIC with output of 362 hp and 384 lb-ft.
Mercedes-Benz GLC Coupe Spy Shots
Check out the spy photos of the Mercedes-Benz GLC Coupe in the gallery below: