Giancarlo Perlas
February 18, 2016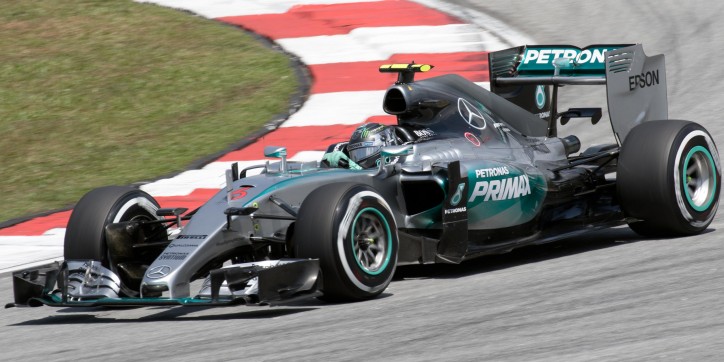 Mercedes-AMG Petronas Formula One team is coming back in 2016 with the same strong lineup and more advanced car. So far, the group has decided to keep its powerhouse drivers namely Lewis Hamilton and Nico Rosberg. The team is not slowing down in the upgrades of their F1 W07 Hybrid Silver Arrow race car too.
Earlier, Andy Cowell, the Mercedes F1 engine chief, hinted about the upgrades in the hybrid V6 of their race cars. He claimed that they are working on improving their units' thermal efficiency that will lead to better power gains. He also revealed about a louder engine sound for their cars.
According to Sky Sports, Mercedes F1 team will showcase its lineup as well as new car for the 2016 season on February 22. This will be made during the F1's pretesting event in Barcelona. Currently, the team is tight-lipped on the key specifications of the W07 Silver Arrow.
F1 Cars and Driver Lineup Unveiling Schedule
The source released the unveiling schedule of the other teams in F1 too. Here are the dates based on the source:
Renault
Renault made its comeback in F1 on February 3 in Paris. Its cars for this season are called the RS16 driven by Kevin Magnussen and Jolyon Palmer.
Red Bull
Red Bull stays in F1 after earlier announcement that it will withdraw from the sport. As of February 17, it revealed its livery in London using its old car. However, on February 22 in Barcelona, its RB12 car will finally make its official debut. The drivers of the team remain the same with Daniel Ricciardo and Daniil Kvyat forming the lineup.
Ferrari
Ferrari is seen as a formidable challenger to the throne of Mercedes with its improved engine. Its drivers will still be Sebastian Vettel and Kimi Raikkonen. Their new car will be revealed online on February 19.
McLaren
The Honda-powered McLaren is looking to reclaim its lost glory with its new Mp4-31 car driven by Jenson Button and Fernando Alonso. The team will also make an online launching of their new car on February 21.
Haas
American team Haas will show its car on February 22 in Barcelona. Romain Grojean and Esteban Gutierrez will be taking the helm of its cars.
Force India
Manor is still equipped with Mercedes engines. Its new car, the VJM09, will be shown on February 22 in Barcelona. The team will be composed of Sergio Perez and Nico Hulkenburg.
Williams
Williams is hopeful this season with its Mercedes engines and lineup consisting of Felipe Massa and Valtteri Bottas. The group will debut its new FW38 car on February 22 in Barcelona.
Toro Rosso
Toro Rosso stays in the sport with its drivers Max Verstappen and Carlos Sainz. The STR11 car of Red Bull's sister team will be displayed on February 22 in Barcelona.
Manor
Not much information was provided by Manor, but the source said it will show off its new car and drivers on February 22 in Barcelona. 2015 DTM Champion Pascal Wehrlein and Rio Haryanto will be making their debut in F1 under the team's banner.
Sauber
Sauber will take its C35 car in Barcelona on March 1. Its lineup is the same with Felipe Nasr and Marcus Ericsson behind the steering wheel.