Giancarlo Perlas
December 6, 2015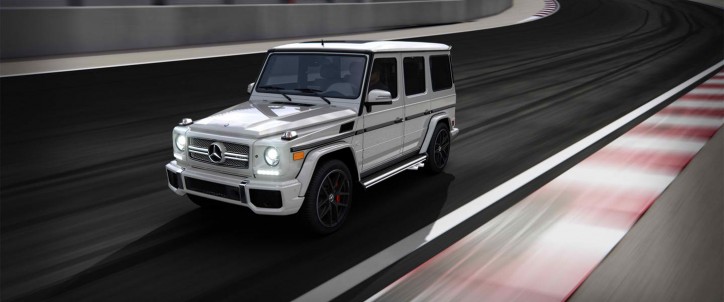 The Mercedes-Benz G-Class has withstood the test of time over decades. Despite retaining many of its original traits, like its unchanging exterior design, it remains one of the most sought-after products of the three-pointed star marque.
If you're looking to buy a G-Class right now, this article discusses the current lineup of the original and the most resilient SUV segment of Mercedes. Note that this only covers the existing models of the range in major European markets. Furthermore, the following only reflects the most basic prices of the units if you choose to opt out for the optional add-ons like the AMG Performance package, special wheels, and others.
Based on the recent article of Daimler, the G-Class starts at 89,922.35 euros up to 282,208.50 euros (including VAT in Germany). Here are its models plus their engine specs and prices:
Mercedes-Benz G 350 d
The diesel-powered G 350 d has a displacement of 2,987 cc in itsV6 engine, which can give off up to 245 hp and 600 Nm of torque. It can accelerate from 0-100 km/h in 8.8 seconds. This costs 89,922.35 euros.
Mercedes-Benz G 500
The G 500 houses a V8 with a displacement of 3,982 cc that provides it 422 hp and 610 Nm of torque. The power allows the auto to go from 0-100 km/h in 5.9 seconds. This one costs 105,035.35 euros.
Mercedes-Benz G 500 4×4
2
This has the same engine configuration with the G 500, except its 0-100 km/h sprint is at 7.4 seconds. Its price is 226,100 euros.
Mercedes-AMG G 63
The AMG G 63 shares the same V8 engine as the G 500. However, the unit is tuned to offer up to 5,461 cc engine displacement with 571 hp and 760 Nm of torque. The figures propel the vehicle from 0-100 km/h in just 5.4 seconds. This will drive you back by 143,246.50 euros.
Mercedes-AMG G 65
The most powerful model of the G-Class is the AMG G 65. Under its hood is a massive V12 with a 5,980 cc displacement and an output of 630 hp and 1,000 Nm of torque. This is quicker than the AMG G 63 in its 0-100 km/h run by 0.1 second. The auto costs 271,915 euros.
Edition 463 Variants
The Edition 463 models only consist of the AMG versions of the G-Class. These have the same engine outputs as their standard AMG 63 and AMG G 65 counterparts. But due to the visual enhancements, customers can own these for 159,341 euros and 282,208.50 euros, respectively.