Giancarlo Perlas
December 8, 2015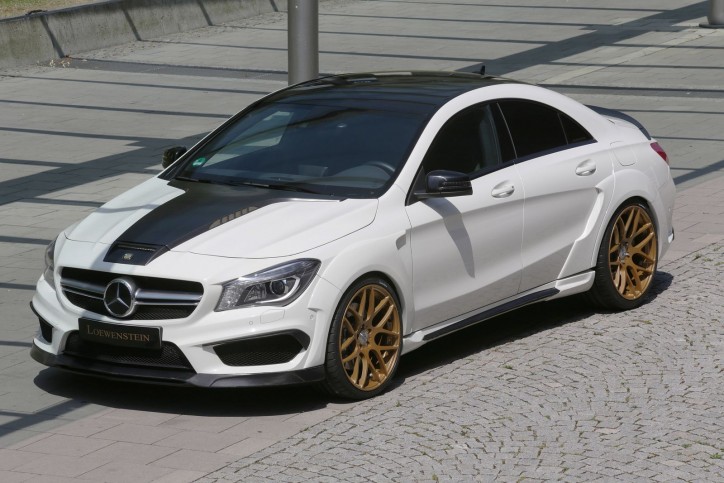 Tuner Loewenstein recently announced its work on the 2015 Mercedes-AMG CLA 45. Its package provides the sporty compact sedan a significant boost in its engine power plus major visual enhancements.
According to Carscoops, popping up the hood of the car would reveal the same AMG 2.0-liter biturbo four-cylinder engine of the performance-level CLA, but with the addition of a plug and play module to the ECU. The hardware brings the usual 360 hp and 333 lb-ft of torque output of the auto up to 410 hp and 391 lb-ft of torque.
For those who are not yet contented with the boost, the specialist offers custom downpipes with a sport cat. This is installed together with new sports intake and filters. These allow the auto to reach up to 425 hp and 399 lb-ft of torque.
There was no mention about the improvement in the car's acceleration. But for the record, the stock Mercedes-AMG CLA 45 is capable of sprinting from a complete halt to 100 km/h in only 4.6 seconds. Therefore, expect the Loewenstein package to be marginally less than that.
After the engine upgrade, the tuner provides the AMG CLA 45 with visual updates. These include wider arches, extended front spoiler lip, new diffuser, personalized aluminum tailpipes with gold finish, and carbon fiber hood. All the cosmetic revisions are topped off with gold finish 20-inch wheels that match its tailpipes. Next, the wheels are wrapped in Michelin Pilot Super Sport tires measuring 245/35 in front and 285/30 at the back.
To complete the transformation of the Mercedes-AMG CLA 45, Loewenstein also imbues carbon fiber treatment in its interior elements coupled with plush velour fabric for the floor and luggage compartment surfaces.