Giancarlo Perlas
December 18, 2015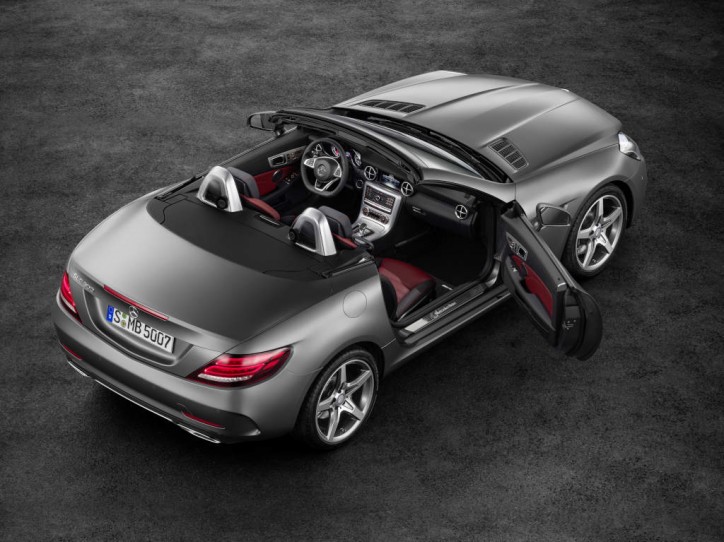 The Mercedes-Benz SLC may be a new name in the luxury car segment, but its line goes way back nearly two decades ago. During that time, it was introduced as the SLK, which immediately captured the hearts of buyers and car enthusiasts.
According to Daimler, the SLC will be 20 years old in March 2016. The range sold around 670,000 units so far. So what are the things we can look forward to with the latest SLC?
Engine Types
The whole lineup offers two kinds of engines and five configurations to choose from. The variants include the SLC 180, SLC 200, SLC 300, SLC 250 d, and the AMG SLC 43.
The Mercedes-Benz SLC 180 is equipped with an inline-four engine with a displacement of 1595 cc. Its output is at 156 hp with 250 Nm of torque. The acceleration of the car from zero to 100 km/h is at 7.9 seconds and its top speed is 226 km/h.
The Mercedes-Benz SLC 200 has an inline-four possessing a displacement of 1991 cc and an output of 184 hp with 300 Nm of torque. The sprint of the auto from zero to 100 km/h is at 7.0 seconds. Its maximum speed is 240 km/h.
The Mercedes-Benz SLC 300 shares the same engine and displacement with the SLC 200. However, its outputs are cranked up to 245 hp with 370 Nm of torque. Then its run from zero to 100 km/h is only 5.8 seconds with a max speed of 250 km/h.
The sole diesel model of the range is the Mercedes-Benz SLC 250 d. It has a 2143 cc inline-four. It is the most fuel efficient in the SLC lineup with a fuel consumption of just 4.4 liters per 100 km/h. It can give off up to 204 hp with 500 Nm of torque. The carbon emission of the car is the lowest too at 114 grams per kilometer. IT is capable of going from zero to 100 km/h in merely 6.6 seconds while its top speed can reach up to 245 km/h.
The most powerful in the bunch is the Mercedes-AMG SLC 43.Within its hood is a V6 engine with a 2996 cc displacement. It only takes for the car 4.7 seconds to reach 100 km/h from a complete halt thanks to its 367 hp engine with 520 Nm of torque. The top speed of the auto is 250 km/h.
Both the SLC 180 and SLC 200 come with a six-speed manual transmission gearbox, but the two can be upgraded with the 9G-TRONIC to boost their acceleration. On the other hand, the rest have the 9G-TRONIC as a standard fit.