Giancarlo Perlas
November 14, 2015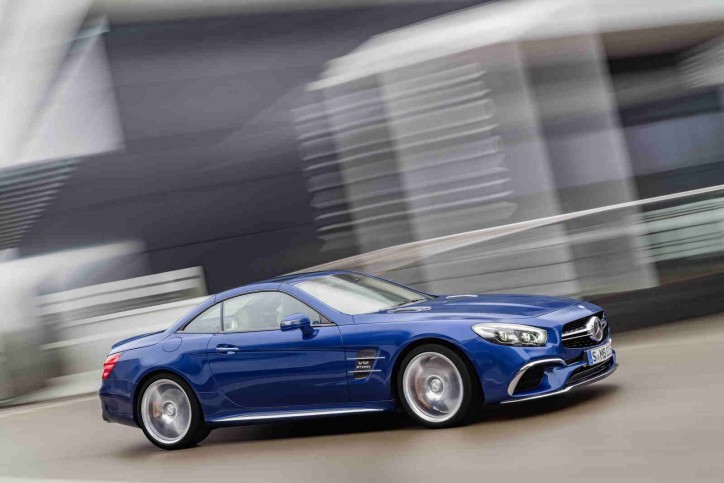 For those who are eagerly awaiting for the Los Angeles Auto Show just to see how the facelifted 2017 Mercedes-Benz SL will look like without those obstructive camouflage wraps or shadows strategically-placed to cover some of its key exterior elements, its photos are finally leaked online.
Several images show the same car officially teased by the three-pointed star brand earlier, but with picturesque lighting that exposes its beauty in full. The auto is also displayed with its retracted roof, which exposes its classy interior. Closer shots of its cabin are provided too.
As everyone witnessed in the teaser photo of the refreshed SL, it possesses many styling elements found on the Mercedes-AMG GT, particularly the shape of its hood. On the other hand, its headlights mirror the ones in the latest S-Class. Then the front bumper, grille and intakes are resculpted to make it sexier than its existing model. Going around would reveal redesigned taillights, diffuser, and exhaust tips as well. The rest of the exterior is the same with its current version.
Moreover, the interior shots offer a closer view at the new trims, three-spoke steering wheel, pedals, and infotainment enhancements of the upcoming SL. Many of the updates are reminiscent of elements found inside the AMG GT and S-Class.
Still, there's no confirmation yet about the engine options for the new SL. The source points out that it might retain the same powertrain found on the existing models with a V6 for the SL400, and V8 and V12 power units for the AMG versions. Most of its models will probably carry the nine-speed automatic transmission gearbox of Mercedes.
Facelifted Mercedes-Benz SL Gallery
Check out the photos below showing the revised SL in its entirety: