Giancarlo Perlas
November 9, 2015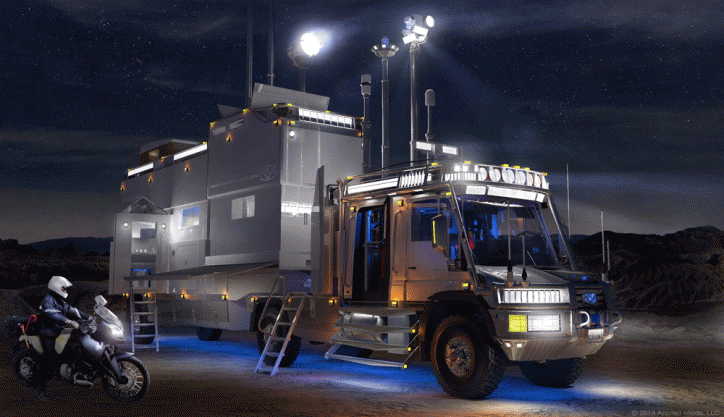 The Mercedes-Benz Unimog, along with the vans of its brand, is one of the favorites of outdoor enthusiasts. It's because the truck is capable of accommodating a lot of customization options. Aside from its many potentials as a mode of transport, it can also be turned into a mobile home.
One guy really took things further by transforming the massive vehicle into a mobile base that looks capable of handling even an atomic or zombie apocalypse while rechristening it as the KiraVan. Bran Ferren, co-founder of Applied Minds and former Head of Disney Engineering, was the person who conceptualized the product in 2010.
Ferren named the customized Unimog after his daughter Kira, whom he drew a lot of inspiration for many of the vehicle's safety elements. He recently put the project into fruition with a team of skilled technicians and unveiled it at the 2015 SEMA Show in Las Vegas last week.
Keeping in mind the lessons learned from Ferren's earlier project with the Maximog expedition system in early 2000s, he set out a project that aimed to increase the living space, safety, reliability, survivability and maintainability of the Unimog. He was particularly concerned about the convenience and safety of the truck's cabin with regard to his daughter, who is now four years old, so he integrated kid-friendly features in it that would let his child play, interact with friends, and conduct some activities while on the road.
The KiraVan is equipped with the six-cylinder in-line truck engine of Mercedes. It is capable of building up to 260 hp and 700 lb-ft of torque. It has fuel tanks that could hold 170 gallons of diesel for an approximately 2,000 miles of travel.
Going inside its trailer will reveal an array of computers and devices that control the truck's advanced navigation, communication, mapping, remote exploration, archaeological surveying, digital documentation, air conditioning, water system, medical system, fire protection, security, and a lot more.
This Mercedes-Benz Unimog, aka the KiraVan, is certainly a survivalist, nerd, or adventurer's dream come true.
Mercedes-Benz Unimog Kiravan Photos
Check out more images of the behemoth vehicle in the gallery below: