Giancarlo Perlas
November 14, 2015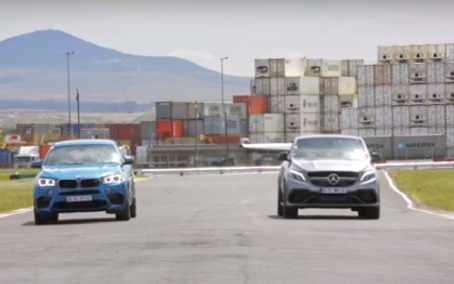 The 2015 Mercedes-Benz GLE Coupe is referred to as the answer of the three-pointed star marque to the 2015 BMW X6. Just like its competitor in its niche, the GLE sports a four-door coupe design. However, its maker imbued its performance model with a slightly more powerful engine.
In a nutshell, the Mercedes-AMG GLE63 S Coupe 4MATIC possesses a 5.5-liter biturbo V8 engine capable of producing up to 577 hp with 561 lb-ft of torque. The numbers are a little above the 567 hp and 553 lb-ft of torque coming out from the twin-turbo V8 unit of its all-wheel drive BMW rival. Both have their top speeds electronically limited at 250 km/h.
The BMW X6 M makes up for the lower output with a much lighter body than the Mercedes-AMG GLE 63 S Coupe though. Add to that the quicker shifting automatic gearbox of the Bimmer.
The Race
The video below will show you how the different elements of the Merc and Bimmer will play out in a drag race:
The Results (Spoiler Alert!)
The lighter with a faster responding shift BMW X6 M prevailed over the more powerful albeit heavier Mercedes-AMG GLE63 S Coupe. Almost in the middle of their sprint, the BMW can be seen building more momentum, which eventually left the Mercedes behind by nearly half a second at the finish line.
The final results were:
The 2015 Mercedes-AMG GLE63 S Coupe finished at 12.52 seconds.
On the other hand, it only took the 2015 BMW X6 M Coupe 12.24 seconds to accomplish it, which gives it the win.