Giancarlo Perlas
November 8, 2015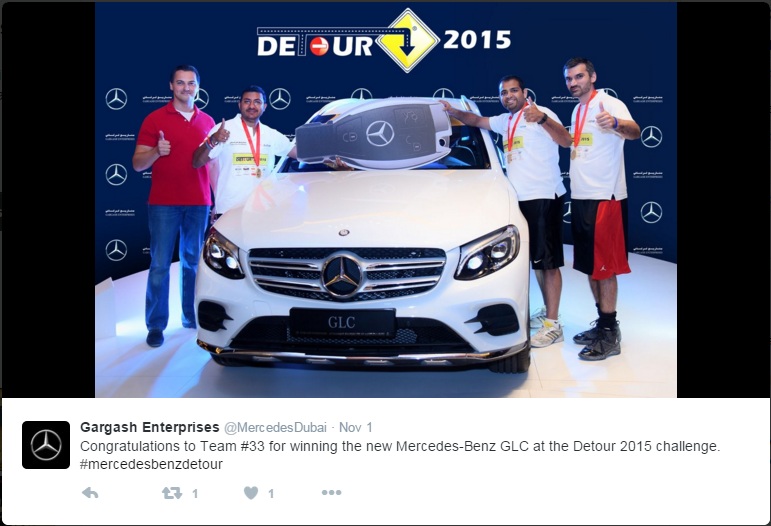 A 2016 Mercedes-Benz GLC was recently given away as a grand prize at an event in Dubai. The event was called the Mercedes-Benz Detour 2015. It was held on October 30, and was joined by Mercedes enthusiasts in the United Arab Emirates who were at least 21 years old.
Based on the tweet of Gargash Enterprises, an authorized distributor of Mercedes-Benz in Dubai, Sharjah & Northern Emirates, the guys belonging to Team #33 of the event were able to bag the coveted GLC.
According to Menafn.com, the Mercedes-Benz Detour 2015 is an exhilarating motor sports treasure quest hunt in Dubai. It involves both physical and mental activities to test the skills of the participants. The source said around 100 teams joined the activity.
Kudos to these men. They certainly hit the jackpot there.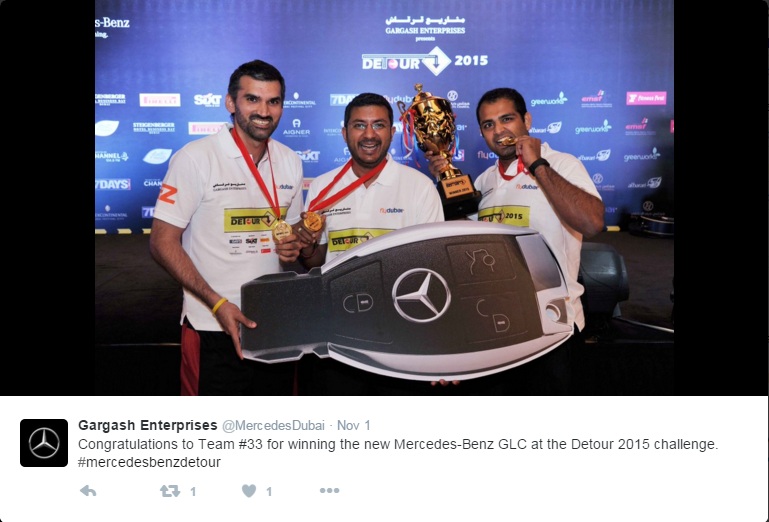 About the 2016 Mercedes-Benz GLC
The Mercedes GLC is the successor of the GLK. The new model is 4.7 inches longer, 2 inches wider, and 0.3 inches taller than its predecessor. It also features a couple of updates in its fascia to mirror the latest features of the sedan where it is based, the C-Class. The tech of the SUV gets a significant upgrade too in order to keep up with the changing times. The engine of the GLC is revamped as well.
The standard GLC 300 has the same 2.0-liter turbo four-cylinder engine that powers the latest C 300. Its output is rated at 241 hp with 273 lb-ft of torque. The power of the SUV is distributed to the rear wheels via a nine-speed automatic gearbox. It is also available with an optional all-wheel drive.