Giancarlo Perlas
October 26, 2015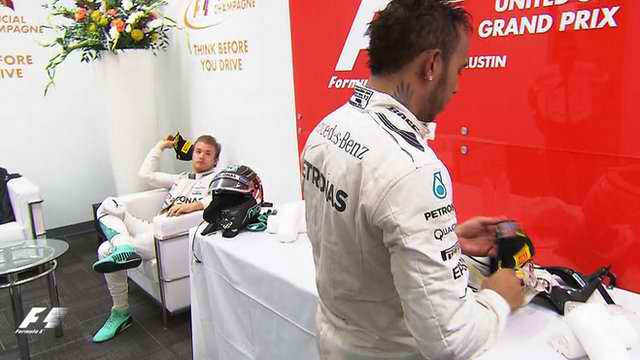 A Formula One World Champion has been crowned after the 2015 United States Grand Prix. Lewis Hamilton once again took the coveted F1 world title in a back-to-back win since the 2014 season, and his third F1 championship in his whole career. While his teammate Nico Rosberg was gracious even at his defeat last year, this time, he appeared none too pleased.
A trending video recently showed the two in their lounge. During that instance, Hamilton tossed the podium cap towards Rosberg who was sitting. The German driver responded by throwing it back to his teammate. Hamilton looked like he didn't respond to it. Then the clip also showed Paddy Lowe who seemed to have been caught off-guard by the awkward situation he was in.
It should be noted that earlier, Hamilton became too aggressive in the last 10 laps before the conclusion of the race. In one of those moments, he was seen pressuring his teammate, which led to the latter making a mistake along the way. It eventually cost Rosberg a win and led to Hamilton securing the Drivers' Championship.
The victory of the champ allowed him to overtake Ferrari's Sebastian Vettel in terms of all-time wins too. He now holds 43 overall wins.
Toto Wolff, just like what he did at in the post-match of the 2014 F1 Belgian GP, said he will let things cool down and allow Hamilton to celebrate his success. Then they will talk after the smoke has been cleared.
Trending Video of Rosberg and Hamilton in the Aftermath of the 2015 US GP
Check out the video of the throwing incident below: