Giancarlo Perlas
August 2, 2015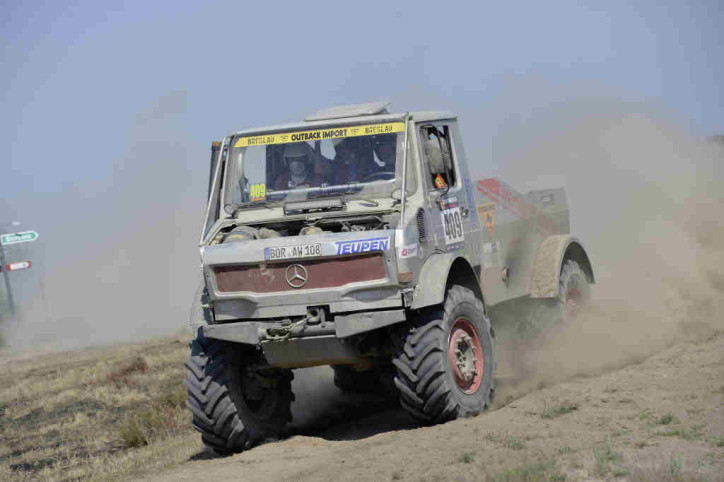 Proving themselves as the best when it comes to harsh terrains and challenging environments, the Mercedes-Benz Unimog and Mercedes-Benz Zetros emerged victorious at the 2015 Wroclaw Poland extreme road rally, which is Europe's biggest and most-demanding license-free off-road events. In the eight days pushing the participating vehicles to their limits, the Unimog captured two first places in the two racing categories it joined while the Zetros bagged one win in another class.
The different parts of the rallies were held in the challenging vicinities of the coal mine in Profen, military training areas and compounds in Biedrusko and Borne Sulinowo during the month of July.
The Mercedes-Benz Unimog stood out in the Small Truck Extreme category joined by trucks with gross vehicle weight (GVW) not exceeding 7.5 tonnes. A Unimog model series 437 was used in this class, which was driven by Alfred Wemhoff and his navigator Simon Meintema for a gruelling total of 29 hours on track.
The 1987 Unimog used was modified from the U 1700 and U 2450 models and was fitted with special components for the event like a roll cage, special shocks, bucket seats, winch, plus customized approach and departure angles. It had a 330 hp output distributed through a high-speed transmission, giving it a top speed of around 125 km/h. The truck finished three hours ahead of the second-placer.
Another Unimog grabbed the first place in the Small Truck Cross Country segment. For this typical high-speed rally, a Unimog U 100 L was utilized, driven by Hanspeter Karches and his co-driver Bernd Regensburger.
Lastly, the Big Truck Extreme class, which included trucks with GVW of more than 7.5 tonnes, was dominated by theMercedes-Benz Zetros. It was driven by specialists Krzysztof Ostaszewski, Lukasz Piasecki and Slawomir Papaj.