Giancarlo Perlas
August 24, 2015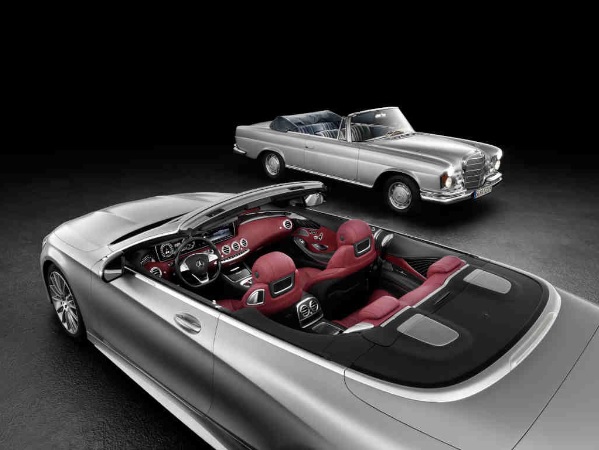 Mercedes-Benz is dropping a big one for the International Motor Show in Frankfurt. Today, the three-pointed star brand officially revealed the new Mercedes-Benz S-Class Cabriolet concept that will debut in the event.
Although the picture shows the car from an angle favouring its rear, it does give everyone a good view of what to expect from it. Its interior is clearly shown here, which resonates the same aura found on the latest S-Class Coupe, minus the roof as well as the rear pillar. The picture displays the next S-Class variant alongside the classic Mercedes-Benz 220 SE Cabriolet from the W111 series.
It should be noted that the older Mercedes was introduced in 1961. Then it stayed in the production line for a decade, running up to the W112 series with 7,013 units made. The top-down was offered with five engine options.
According to the press release of the company, the upcoming Mercedes-Benz S-Class Cabriolet will follow the tradition started by the 220 SE. Daimler Board Member, Mercedes-Benz Cars Sales head Ola Källenius said that the S-Class convertible embodies the drive of their company to produce another unique and timeless product.
It should be exciting to see what Mercedes will put into the upcoming cabriolet model because, as Mr. Källenius revealed, it will combine the classic high-class appeal of the 220 SE with the latest S-Class Coupe. The tech that will be featured in the car is a must-see too.
So far, there are no hints from Mercedes about the engine options of the S-Class Cabriolet. But with the goal of the company to let the car make its mark in history, it is possible that the automaker will put the power units found in the S-Class Coupe. There is a likelihood also that the models under the range will be equipped with the engines from its Mercedes-Maybach versions. Therefore, we might see a S550 and even S600 models there.