Ryan Joseph Ramos
August 22, 2015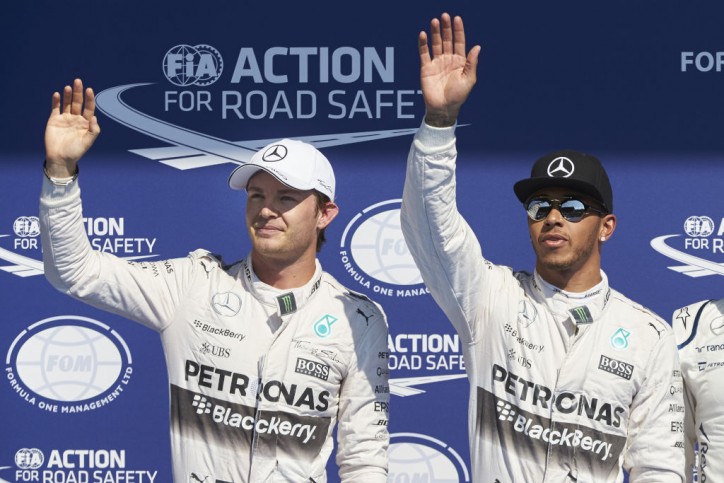 Mercedes AMG Petronas was able to get back in the groove with another front-row lockout in qualifying for the 2015 Belgian Grand Prix. Lewis Hamilton secured his tenth pole position in 11 races so far this season. Teammate Nico Rosberg stayed close until Q3, but was unable to take pole from Hamilton and thus settled for P2.
Of course, a good start could see Rosberg right up there with Hamilton to start the race. With Rosberg competitive all weekend, there's no doubt he'll give Hamiton a run for his money.
This pole also happens to be Hamilton's sixth straight, and that puts him in a tie with Mika Hakkinen, who set the single-season record back in 1999. Hamilton is also the first driver to get six straight poles since Michael Schumacher, who achieved the feat in races bridging the 2000 and 2001 seasons.
Hamilton was all praises for the team, citing that his car felt good from the get-go. The defending champ added that he felt comfortable so far in Belgium even if it is quite hard to get the right setup on this track.
"Qualifying went well until the end," said Nico Rosberg. "But in Q3, Lewis just found so much time which unfortunately I didn't manage to do." The German driver added that there was still a lot to play for in the race, and with him right at the front, there's plenty of room to take the lead–especially with that long straight that leads up to turn 5.
The team's performance so far indicates that there is no hangover from the Hungarian GP, during which the team had its worst outing so far in the season and saw Sebastian Vettel of Ferrari take the win. Mercedes will have to go and execute on race day itself, though. Lewis Hamilton will have his work cut out for him in historically difficult Spa.