Ryan Joseph Ramos
June 21, 2015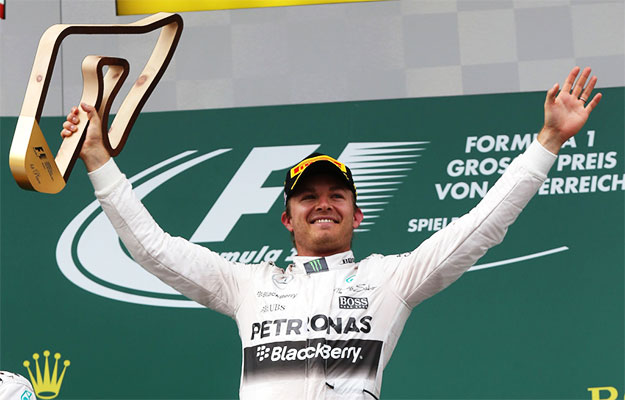 Nico Rosberg took the lead heading into turn 1 and managed to keep Mercedes teammate Lewis Hamilton in his rear-view mirror the rest of the way, winning the 2015 Austrian Grand Prix and closing the gap between himself and Hamilton in the drivers' championship standings.
Rosberg finished the race in 1:30:16.9, a comfortable 8.8 seconds ahead of his teammate. With the win, Rosberg is again within 10 points of Hamilton in the championship race, 159 points to 169. Sebastian Vettel, who finished fourth this race, is a distant third with 120 points.
Williams' Felipe Massa had his first podium finish of the season to round out the top three in a race that saw plenty of action from the get-go, including a terrible crash that saw Kimi Raikkonen's Ferrari and Fernando Alonso's McLaren come into contact with each other. The McLaren mounted the Ferrari and got dragged along until Raikkonen's car came to a stop, with the McLaren mere inches from the Finn's head.
Behind Rosberg, Hamilton, Massa, and Vettel, here are the rest of the points finishers: Williams' Valtteri Bottas in fifth, Force India's Nico Hulkenberg in sixth, Lotus' Pastor Maldonado in seventh, Toro Rosso's Max Verstappen in eighth, Force India's Sergio Perez in ninth, and Red Bull's Daniel Ricciardo taking the final championship point at stake.
"Wow, what a day!" exclaimed Rosberg. "It's such a special track – very tricky and with a fantastic crowd." He added that it was important for him to overtake right from the start because it would have really been hard to overtake Lewis again if he had to. Rosberg also said there were some vibrations on the right front tire near the end of the race but he was able to hold on and claim the win.
Hamilton said he had problems at the start, which led to him relinquishing the pole position and falling behind Rosberg early. "I had a problem with the revs in that, when I came off the throttle, the revs stayed up. So, when I dropped the clutch, I had too much wheel spin and lost ground."