Ryan Joseph Ramos
June 7, 2015
Looks like Mercedes AMG Petronas driver Lewis Hamilton got over his Monaco heartbreak easily. He drove as well as he could have at the Canadian Grand Prix this weekend on his way to a race win from pole position, ahead of the fourth Mercedes one-two finish of the season.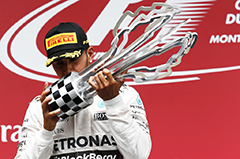 Hamilton finished  a comfortable 2.285 seconds ahead of teammate Nico Rosberg, putting some separation (7 more points) between the two competitors. The defending champion is ahead in the championship race, 151 points to 134 after seven races. Williams' Valtteri Bottas joined the two Mercedes drivers on the podium.
Montreal is where Hamilton won his first F1 race back in 2007, so the track holds special significance for the Brit. "I'm just happy to get another win for me and the team," says the championship frontrunner. "It was quite close after the stops. I think because Nico was in my tow he was using less fuel, so I was having to save a bit while managing the gap."
With the track featuring so much braking, Rosberg said that it was a really tough race with him having to deal with cooling his brakes coming behind Hamilton. The German recognized that he lost the race by losing in qualifying, so he's setting his sights on the next race in Austria.
With the one-two, Mercedes pads its lead to 105 points in the constructors' championship race, ahead of Ferrari.
After the podium finishers, here are the rest of the top 10: the Ferrari of Kimi Raikkonen in fourth followed by teammate Sebastian Vettel in fifth, Felipe Massa's Williams in sixth, Pastor Maldonado in the Lotus in seventh, Force India's Nico Hulkenberg in eighth, Red Bull's Daniil Kvyat in ninth, and the last championship points for Lotus's Romain Grosjean.
The 2015 Austrian Grand Prix is scheduled for June 21st at the Red Bull Ring in the city of Spielberg.