Ryan Joseph Ramos
June 20, 2015
Lewis Hamilton was at the head of yet another Mercedes AMG Petronas front-row lockout at the qualifying session for the 2015 Austrian Grand Prix in Spielberg.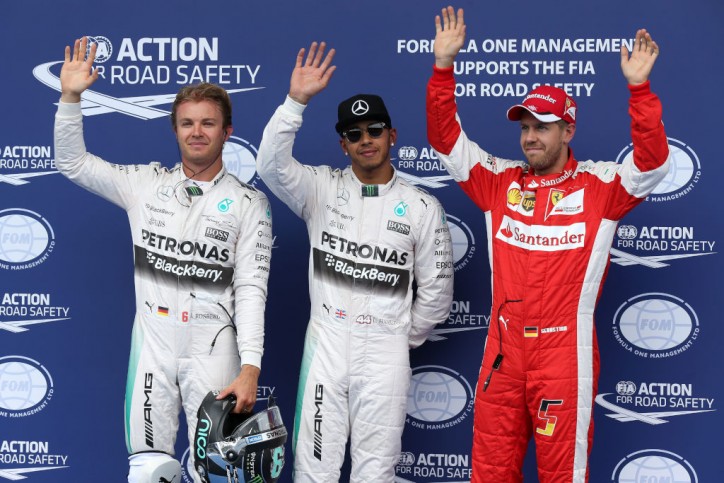 Hamilton notched his 45th career pole position, including his seventh of this current season. In addition, this makes it 19 straight pole positions for Mercedes, dating back to last season's Austrian GP. This also happens to be the sixth Mercedes front-row qualifying effort this season thanks to Nico Rosberg's sixth front-row qualification.
Both Mercedes drivers completed two runs each in all three qualifying runs, though they each spun when they were still trying to improve upon their Q3 times. Still, it didn't matter as Hamilton's 1:08.455 was enough to beat everyone else, including 1:08.655 from Rosberg.
Ferrari's Sebastian Vettel was a close third with 1:08.810, while Williams' Felipe Massa will join him in the second row. Force India's Nico Hulkenberg will start Sunday's race in P5, followed by Williams' Valtteri Bottas (P6), Toro Rosso's Max Verstappen (P7), Red Bull Racing's Daniil Kvyat (P8), Sauber's Felipe Nasr (P9), and finally Lotus' Romain Grosjean (P10) who could not get a run in Q3 because of a failed brake-by-wire system.
"A great result but a bizarre ending when both of our cars spun off – one at the first corner and one at the last," said Paddy Lowe, Mercedes F1's technical executive director. Lowe said this is indicative of just how hard both drivers have been pushing each other.
Rosberg is going to have to push a bit harder without making another mistake like in qualifying. The German still trails Hamilton by 17 points, after gaining some great momentum in previous races before Hamilton won again at the Canadian Grand Prix. There's still plenty of racing left, though, so do stay tuned as we deliver the results.