Giancarlo Perlas
May 4, 2015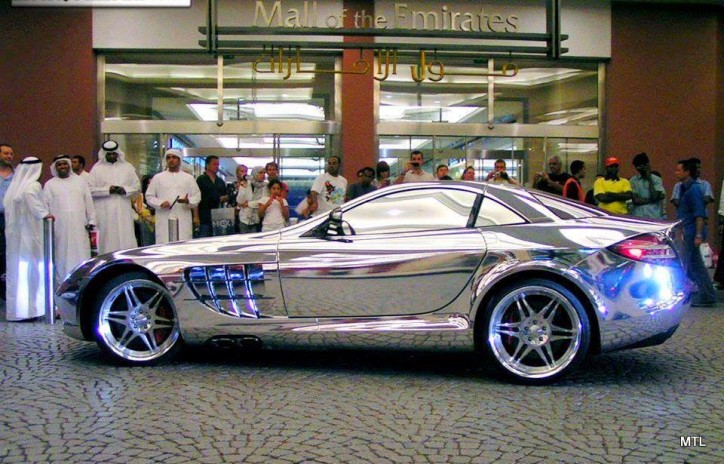 These photos of the white gold Mercedes-Benz SLR McLaren might have been around for years already. Still, I just couldn't help but get amazed by this car upon seeing it again in a Dubai-based website. So, I am featuring it here once more in case some readers might have missed it, or others just couldn't get enough of it like me.
Check out these photos of the unique Mercedes-Benz SLR McLaren, which were taken in Dubai some time in the past:
The Mercedes-Benz SLR McLaren has already cemented itself as one of the iconic cars of the three-pointed star brand. As the name of the car implies, it was jointly developed by Mercedes and McLaren Group back when the Stuttgart-based company still owned around 40 percent of the Woking-based company. The car was created by the two based from the legendary Mercedes-Benz 300 SLR.
The production of the grand tourer ran from 2003 to 2010. During its last production run, the price of a fully-customized Mercedes-Benz SLR McLaren, which comes with carbon fiber components and top-of-the-line interior design, could fetch somewhere more than €400,000. Currently, its pre-owned models still fetch around €169,655 up to €329,000 based on JamesEdition. The lowest price displayed by the online luxury car dealer is still more expensive than the MSRP of the latest Mercedes-Benz S-Class and the Mercedes-AMG GT S.
The facts mentioned above make the supercar not only fit for wealthy individuals, but for those who belong in the ultra-rich category like princes, oil tycoons, mega celebrities, and others who are more concerned about where will they spend their money instead of worrying how they could earn it. Not contented with just having the car itself, most of the said super rich people push their cars to the limit by commissioning specialists to turn their rides into something else that would make them rise above the other owners of the grand tourer.
In this case, one individual with immense cash brought his Mercedes-Benz SLR McLaren into another level by having it covered in white gold. Looking at the pictures of the car here, the plate in the front bumper indicates that the work was done by Kamrus.
Now, if the Mercedes truly made use of white gold in its exterior, it could still be worth more than €1, or more or less €1.5 million. Well, that's just my guess since I am not really that good in appraising gold, or white gold in this instance. However, according to old reports, it was estimated to be around €2.2 million, which might have been overstated. Regardless of the price, this specific SLR is definitely awesome to look at.