Giancarlo Perlas
February 23, 2015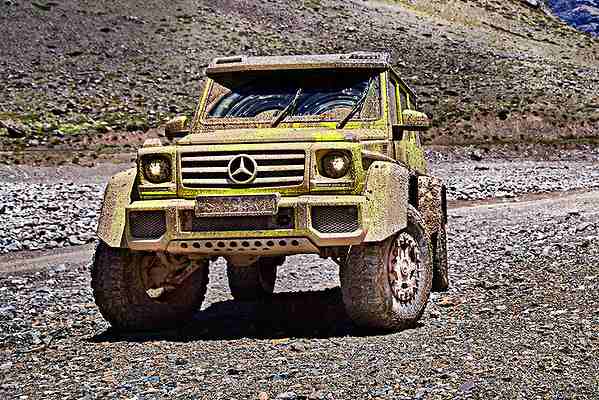 Mercedes-Benz recently released more photos of its new G-Class to build up more hype for the vehicle going to the 2015 Geneva Motor Show. The new model of the range is called the 2016 Mercedes-Benz G500 4×4², a powerful off-roader based from the fabled G63 AMG 6×6.
Mercedes-Benz G500 4×4² Gallery
Hit the photos below to see what the Mercedes-Benz G500 4×4² can do in various terrains:
What We Know So Far About the G-Class Ultimate Off-Roader
The trait that defines the Mercedes-Benz G500 4×4² is its portal axles similar to its six-wheeler counterpart. The high ground clearance allows the vehicle to conquer 17.7-inch high obstacles, and tread water that runs up to 39.4 inches deep. It is also 11.8 inches wider than the standard G500, and 88.6 inches in height.
Under the hood, the luxury off-road vehicle has the 4.0-liter V8 engine similar to the one found in the Mercedes-AMG GT. The output of the AMG M178 power unit is at 416 hp and 450 lb-ft of torque. It is distributed through all four wheels of the auto through a seven-speed automatic gearbox with a manual shifting mode.
Based on the company's performance test data, the behemoth can go from zero to 60 mph in only 5.7 seconds. On the other hand, its top speed is at 130 mph. However, its maker advises keeping the numbers under 100 mph when using off-road tires.
The pricing of the G500 4×4² is yet to be revealed. It should be more affordable than the 6×6 though. Various sources estimated its cost at around $200,000.