Peter Parcon
February 21, 2015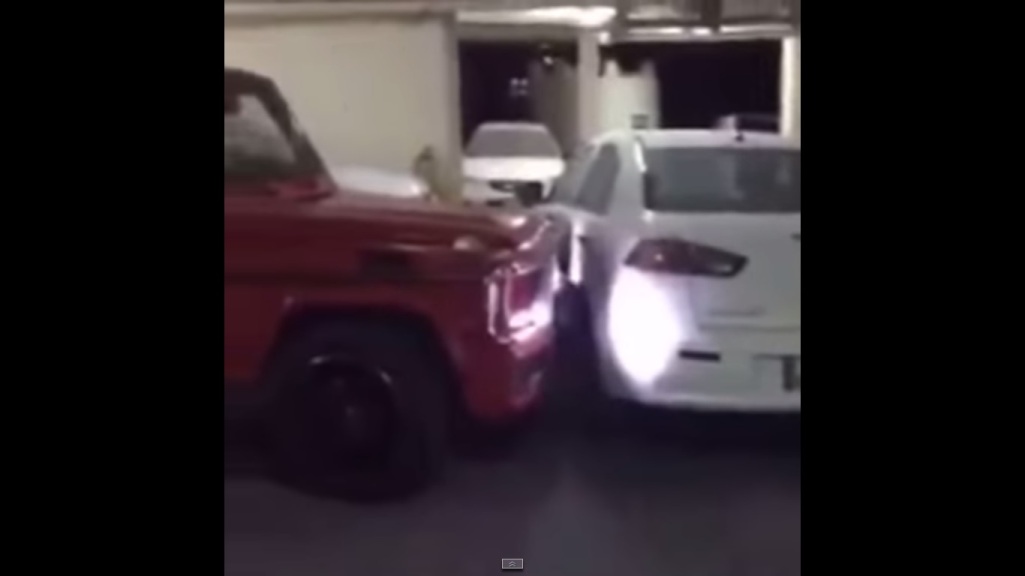 The owner of a red-colored Mercedes-Benz G63 AMG probably had gone through numerous instances where another car was parked blocking his or her way out, as shown on a video posted on autoevolution.com.
These situations are not uncommon since there may be a good number of not-so-considerate vehicle owners out there. Some people are selfless enough to wait for the vehicle owner to come out while others leave a rather unpleasant note under the wiper. Some people may be so irritated with the circumstances that they leave something more permanent on the paintjob of the other vehicle.
The Gelandewagen owner did not do any of these things since he simply used his vehicle to push the white Mitsubishi Lancer out of the way. However, the video, which may have been taken from somewhere in the Middle East, showed that pushing a vehicle aside is similar to a double-edged sword since it appeared that the Mercedes-Benz G63 AMG sustained major damage on its front end. Fortunately, the vehicle features a bull bar that made the damage more superficial than anything else.
While it is not difficult to pull or push a car away when it is not in gear, a good amount of power is needed to do what the G63 AMG did on the video. And the 5.5-liter V8 engine of the G-Class has this kind of power since it features a torque of 561 lb-ft at 2,000 rpm and a power output of 536HP, which basically made the white Lancer appear like a toy car.
However, it is possible that the cost of repairing the front bumper of the G63 AMG may be higher compared to the cost of purchasing the Lancer. If truth be told, the red Mercedes-Benz G63 AMG is probably around thirty times more expensive than the Mitsubishi.