Giancarlo Perlas
February 4, 2015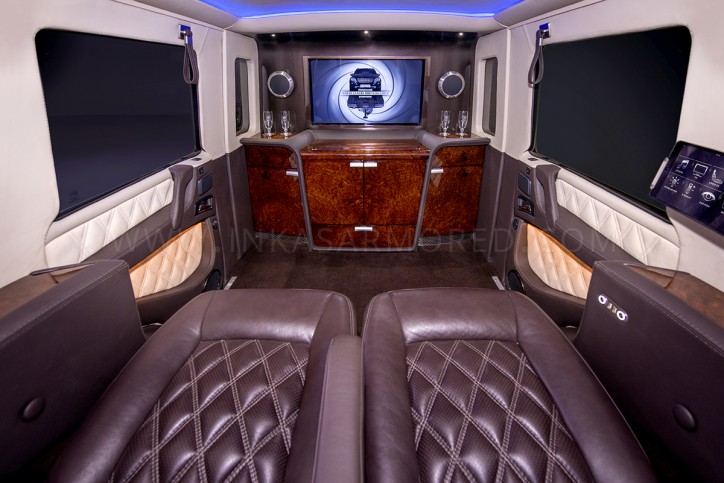 INKAS Armored Vehicle Manufacturing recently announced new upgrades in its flagship fully-armored and stretched executive  limousine based on the Mercedes G63 AMG. The improvements centered in the vehicle's exterior and interior to improve its styling and comfort features.
It should be noted that the first edition of the INKAS armored G-Class already has a stylish and classy character combined with features that bring its occupants utmost comfort and security. However, it seems that the tuner saw more room for improvements in the vehicle in order to please its ultra-rich customers more.
Among the key upgrades are the following:
The exterior is coated with a more stylish matte black finish.
A new window in the 43-inch stretched portion.
Customized lights and side blinkers.
Electroluminescent bulletproof glass for more comfort and privacy.
Cameras are fitted in the exterior to provide perimeter surveillance.
Customized exotic leather and carved wood surfaces utilizing materials used by ultra-luxury car makers such as Bentley, Rolls-Royce, and Aston Martin.
New innovative lighting system consisting of colored LEDs that offers different animations ranging from business mode to various romantic themes.
Personalized captain-style exotic leather seats with heating and cooling, plus an advanced massage system.
Latest generation satellite phone.
A new satellite TV system with an outdoor parabolic reflector antenna on the roof.
A dry refrigerator instead of the usual cool box.
An indoor exhaust system that improved the circulation of air in the cabin.
A speed-pistol holder located on the front panel for quick access during emergencies.
A special drawer with a limited edition Leonardo Da Vinci Montblanc pen.
The electronic systems are connected to a central operating unit and neatly packed behind the rear seats to maximize space and use of the vehicle's interior.
INKAS released the Mercedes G63 AMG Limo around July last year. The limo has a CEN 1063 Level B6 armoring. That means it is capable of withstanding a shot even from a firearm which uses 7.62 mm, 308 Winchester FMJ ammunition. Then, its flooring can protect the interior against blasts and shrapnel from the simultaneous explosions of two DM51 grenades. Even the clear glass of the modified Mercedes G-Class are bulletproof.
According to Maria Tkacheva, Communications Coordinator of Inkas, the upgraded armored Mercedes G63 AMG stretched executive limo is now available for order. When asked whether it also offers engine upgrades, she said they retained the standard engine of the G63 AMG.