Ryan Joseph Ramos
January 19, 2015
While there has been speculation that Mercedes could simply use the superbly designed 2014 power unit for the first few races of the 2015 season and just upgrade it through the course of the season given the new rulings handed out by the FIA on engine development, new reports have surfaced that say those rumors are not true and that Mercedes is already hard at work to bring a fresh power unit by the first test at Jerez on February 1.
The Jerez test will also be an opportunity to showcase the new car for 2015, the F1 W06 Hybrid. We will be seeing Nico Rosberg at the wheel on the first day and on the third day of testing at the Spanish circuit, while defending champion Lewis Hamilton will man the car for the second and fourth days.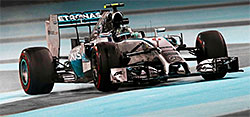 "The workload this winter has been as great as ever," said Mercedes-Benz Motorsport chief Toto Wolff. "Everybody in Brackley, Brixworth and Stuttgart has put a great amount of effort into creating the latest Silver Arrow and I thank them for their efforts so far."
Well, the rumored strategy to bring in upgrades along slowly caught on because it actually made sense. Don't fix it if it ain't broke, as they say. But then, it's well within Mercedes' capabilities to roll out a new power unit by February 1, so it's also not surprising if they go that route. Both strategies work; Mercedes will just have more flexibility if they can test the new power unit right away.
Mercedes will definitely start the season with a target on its back, what with the way it dominated last year. It will be good to see the Silver Arrows back in action, and we hope they have the form to back it up once the testing at Jerez starts in a couple of weeks. Stay tuned!
BREAKING NEWS: #F1 W06 Hybrid to be unveiled Sunday 01 Feb in Jerez! Find out more here -> http://t.co/dmDLBoYMkI pic.twitter.com/S2DCqtAuRf

— MERCEDES AMG F1 (@MercedesAMGF1) January 19, 2015