Giancarlo Perlas
January 16, 2015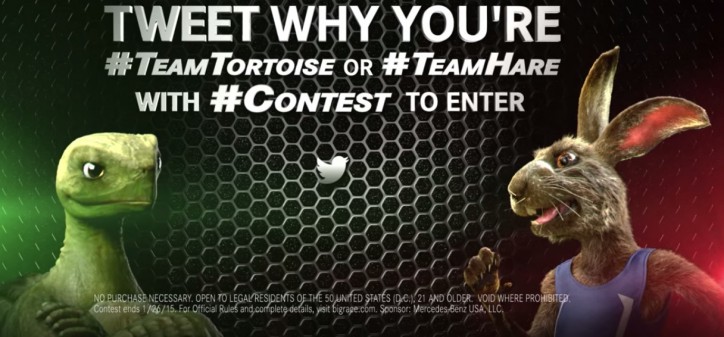 After opting out to feature an advertisement in last year's Super Bowl, Mercedes-Benz comes back this year in the grandest event in American football. The ad this time is called "The Big Race".
The theme of the ad is about the all-time favorite children's tale of the race between the tortoise and the hare. According to Business Insider, the German automaker revealed that it is putting a "modern twist" to the popular Aesop's Fables story.
Recently, Mercedes-Benz released a teaser about its new ad for the show. The clip featured a show called "Showdown" hosted by former NFL wide receiver Jerry Rice. Then, he was joined by a cute little boy named Andrew Hunter, who was apparently a "pet rabbit owner."
The former player began by asking the boy who will win in the race between the tortoise and the hare. Of course, the kid went with the logical choice. However, he mentioned "rabbit" instead of "hare". So, when the host corrected him that it's a hare not a rabbit, the guest insisted that there's no difference between the two.
Then, Rice tried to tell the boy to figure out the difference of the two before debating the best receiver of all time to which the boy asked if he is Odell Beckham Jr. That totally nailed Rice as the camera shifted to Mercedes' Twitter promo.
You can watch the teaser below, and let us know what you think about it:
The source noted that the number of automakers putting an advertisement during the Super Bowl has declined. It claimed General Motors and Volkswagen said they won't be showing any advertisement in the event. Mercedes-Benz, along with Lexus, Nissan and Toyota, confirmed that it will be featuring an ad in the Super Bowl XLIX.