Giancarlo Perlas
January 13, 2015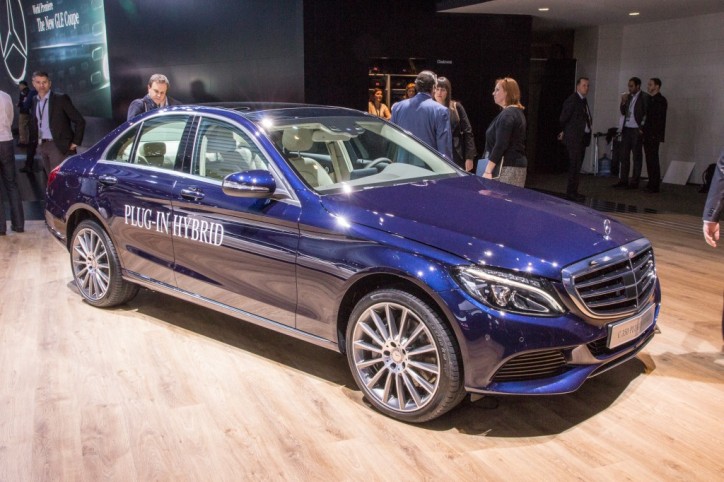 As we have mentioned earlier, among the vehicles highlighted by the three-pointed star brand during the 2015 Detroit Auto Show was the Mercedes-Benz C350 Plug-In Hybrid. The car is among the planned super eco-friendly variants of the brand to be released in the market this year. Based from sources, the hybrid sedan will go on sale in the fall of this year as a 2016 model.
The car in the show came in glossy blue finish with "PLUG-IN HYBRID" lettering on its sides. Of course, the 2016 Mercedes-Benz C350 Plug-In Hybrid came with all the goodies found on the latest C-Class of the brand. However, what made it very special were the engine and motor powering it.
The C350 Plug-In Hybrid carries a turbocharged 2.0-liter four cylinder engine with an output of 208 hp and 258 lb-ft of torque. This functions as the internal combustion component of the auto.
The electric motor of the hybrid sedan puts an additional 80 hp and 251 lb-ft of torque. This is powered by a 6.2 kWh lithium-ion battery pack installed under the trunk of the car.
The overall power of the car is at 275 hp and 443 lb-ft of torque, which is distributed in the rear wheels through a seven-speed automatic transmission. The output enables the car to achieve a zero to 60 mph sprint in only 5.9 seconds. On the other hand, the top speed of the vehicle can reach up to 130 mph. It should be noted though that the said numbers diminish if the driver opts for electric mode. With the mode activated, the maximum speed will be cut to 80 mph to optimize range.
With a fully-charged battery, the Mercedes-Benz C350 Plug-In Hybrid can go up to 20 miles using only electric power. Now this is where it gets more exciting, combining a full tank of gasoline with the battery allows the car to reach a whopping 112 MPGe.