Giancarlo Perlas
January 20, 2015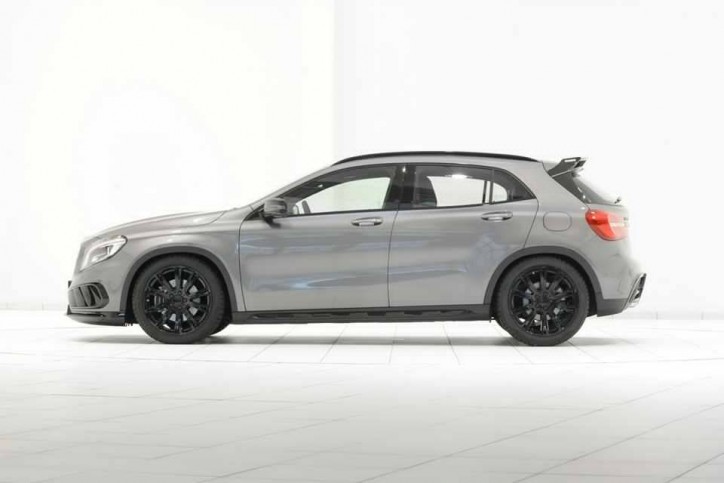 Can anyone still remember the Brabus Mercedes GLA AMG Tuning Package released at the final quarter of last year? As a recap, the crossover had a couple of aerodynamics and styling upgrades. Then, its engine output was increased significantly.
The said vehicle came with a new front splitter, four-tipped stainless steel exhaust system, rear spoiler, rear diffuser, side skirts with automatically activated LED lightings, aluminum-coated shift paddles, Alcantara leather, mirror caps, racing steering wheel, Brabus badges, and a couple of double-spoke sports wheels measuring 18 to 21 inches. The upgrades also offered an option to increase the auto's height by 30 mm.
As for the power upgrade, the output of the Brabus Mercedes GLA was raised to reach up to 400 hp with a 500 Nm of torque. The numbers enable the crossover to go from zero to 100 km/h in only 4.4 seconds and achieve a top speed of 270 km/h.
Recently, Brabus got the GLA AMG a new set of wheels sporting black rims. The addition appeared to look better than the past set of aluminum wheels. It should be noted though that the design of the wheels still featured double-spoke styling and the measurements remained the same. However, it appeared to go more harmoniously with the dark side skirts, fenders, and underside of the car.
Regarding the other features of the tuning package, all were retained and the engine specs were the same.
Photos of the Brabus-Tuned Mercedes GLA AMG with New Wheels
Check out the photos of the Brabus Mercedes GLA AMG here with a new set of stealth black rims: