Giancarlo Perlas
December 25, 2014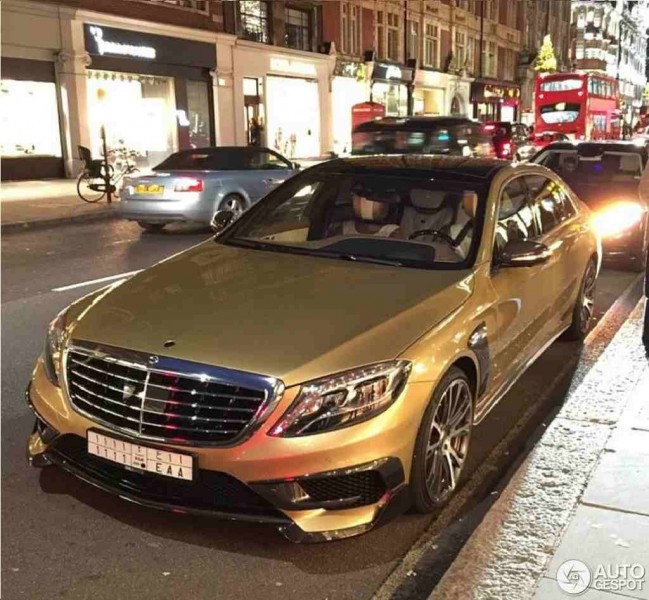 Two weeks ago, we featured the Mercedes S63 AMG with gold finish, also known as the Brabus 850. However, all we had were the official pictures released by its tuner. Recently, Auto Gespot was kind enough to share the actual photos of the car, which certainly allow us to better appreciate its splendor.
Based from the source, the photos were taken somewhere in London. It appears though that the license plate of the car is not local. A closer look at some of the photos would reveal Arabic characters on the plates, which indicate that its owner is probably some rich personality from the Middle East. According to Motorward, the plates were issued in Saudi, so there's your clue.
The new Brabus Mercedes S63 AMG features an ultra-luxurious gold exterior with chrome accents and matching stainless steel alloy monoblock wheels. Its interior is designed with high-class soft white leather with gold accents and stitches to complement its exterior too. Furthermore, the cabin is fitted with a couple of multimedia screens with Internet connectivity for the added convenience of its passengers.
Matching the striking design of the car is its reconfigured AMG 5.5-liter biturbo V8 engine. Brabus raised the power of the car from 585 hp to 850 hp, as its moniker and engine plate indicated. The car possessed a torque of 1,450 Nm as well.
The extra kick in the engine enables the Brabus Mercedes S63 AMG to go from zero to 100 km/h in only 3.5 seconds. Its top speed is a whopping 400 km/h.
Brabus 850 Mercedes S63 AMG Pictures
Check out the other photos of the Brabus 850 Mercedes S63 AMG in the gallery below: