Giancarlo Perlas
November 17, 2014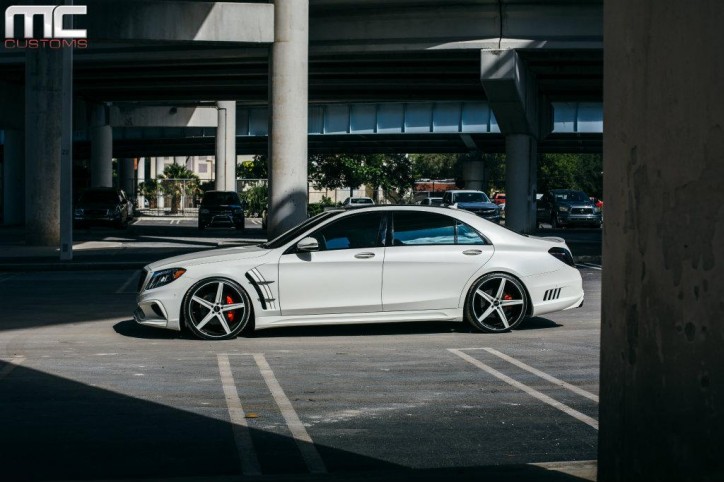 MC Customs recently unveiled its new aftermarket package for the Mercedes-Benz S550. The Miami-based tuner collaborated with the famous Japanese tuning firm Wald International to further enhance the appeal of the German luxury automaker's flagship car.
The body kit of MC Customs for the Mercedes S550 includes a redesigned front bumper with wider intakes, large gills behind the front fenders, bespoke front grille, bigger side skirts, darker taillights, red brake calipers, spoiler lip, tinted windows, and restyled rear bumper with more air vents. The wheels are also replaced with a set of five-spoke Savini rims. The tires appear pretty much standard though.
Overall, MC Customs did a great job in improving the look of the limousine. The tuner was able to transform the super formal aura of the car into something that reverberates a mix of sportiness and luxury.
Under the hood, everything remained the same. So, that means the 4.7-liter biturbo V8 engine was retained. The output remained within 449 bhp with a torque rate of 516 lb-ft too. It should be noted that all that power are distributed by a seven-speed automatic transmission gearbox to the rear wheels. These factors enable the S550 to achieve a sprint of 60 mph from a complete halt within a span of 4.8 seconds.
Photos and Video of the MC Customs Mercedes-Benz S550
Click the thumbnails below for a closer look at the new masterpiece of MC Customs involving the Mercedes S550:
Here is also a video showcasing the same craftsmanship of the tuner with the S550: