Giancarlo Perlas
October 24, 2014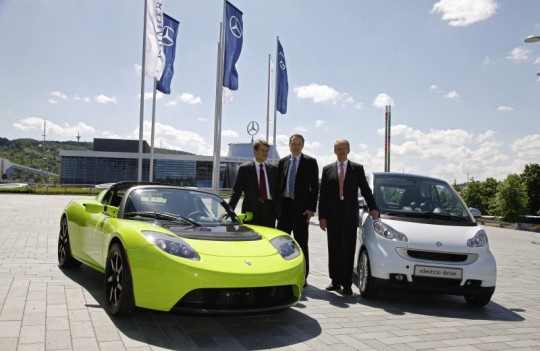 Daimler AG recently sold its stake in Tesla Motors, Inc. The move of the parent of Mercedes-Benz came as a surprise in the automotive industry this week.
According to Automotive News, Daimler held a 4 percent stake in the electric car company. The sale of Daimler's shares earned it a hefty $780 million.
The sudden decision of the German multinational corporation raised a lot of questions in the automotive industry. So far, the speculations below were among the suspected reasons of Daimler's sudden divestiture of its shares:
1. Tesla's Decision to Share its Patents to Competitors for Free
The primary reason why Daimler invested $50 million in Tesla in 2009 is to have access to the electric car company's technology. The German corporation greatly benefited from the California-based firm's expertise in the development of lithium ion batteries. It should be noted that the Mercedes-Benz B-Class Electric Drive was among the key recipients of the technology acquired by Daimler from Tesla. Therefore, when Tesla opened its patents to the public, Daimler no longer had to worry about losing its rights to the electric car company's patents.
2. Tesla's Stock was Overvalued
It could be possible too that Daimler was warned by investors about the overvalued stock of Tesla. So, it is only reasonable for Daimler to take advantage of the situation and sell its stakes while the value is high.
3. Daimler No Longer has a Seat on Tesla's Board
Another angle that analysts are looking is the loss of Harald Kroeger's seat in the board of Tesla. Based on inside sources, the governance committee of the American company decided that it should maintain a neutral position. Thus, it no longer considered Kroeger for re-election and its number of board of directors was reduced from seven to six. With that event, Tesla became less valuable for Daimler, making the sale of its remaining stocks as a more beneficial course of action.