Ryan Joseph Ramos
October 28, 2014
The Mercedes AMG Petronas F1 team and Germany-based multinational sportswear company Puma have agreed to extend their F1 partnership. The extension on the deal that started in 2012 will come into effect by January of next year. Puma will be Official Supplier of Technical Clothing and Footwear as well as an Official Licensee of Footwear, Apparel and Accessories.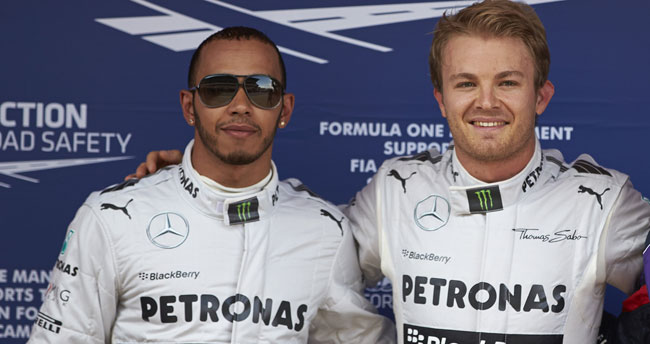 If you've visited a Puma retail store recently, you most probably would have seen all sorts of Mercedes AMG Petronas licensed gear on display, from bags to shirts to sneakers. It's good for Mercedes fans to have such an accessible way to get their hands on official merchandise, and this extended partnership helps ensure that that will continue to be the case for a few more years.
In addition, Puma-owned sports merchandise company Brandon also gets licensing rights for replicas of Mercedes replicas and other fan-oriented products.
The lightweight race suits and the racing footwear worn by Mercedes drivers (see the prominent Puma logos on Nico Rosberg's and Lewis Hamilton's racing suits in the picture) will continue to be supplied by Puma. Of course, the pit crew will also be outfitted by the company as part of the deal.
"This is an important component of our racing operation within a continually evolving and challenging industry," said Mercedes-Benz Motorsport chief Toto Wolff. He cited Puma's ability to design and produce top-of-the-line apparel and gear, which are definitely of utmost importance when you're outfitting the recently crowned F1 constructor champions.
Puma's global reach is also a big factor. Remember, Puma also produces Ferrari and BMW motorsport licensed gear. Products made by the company reach over 120 countries and cover a diverse range to keep fans' needs covered. Puma also sponsors a number of notable sports teams and personalities, including the English Premier League's Arsenal and Bundesliga's Borussia Dortmund (among others) in football as well as Usain Bolt and the Jamaican athletics contingent in track and field.