Giancarlo Perlas
October 9, 2014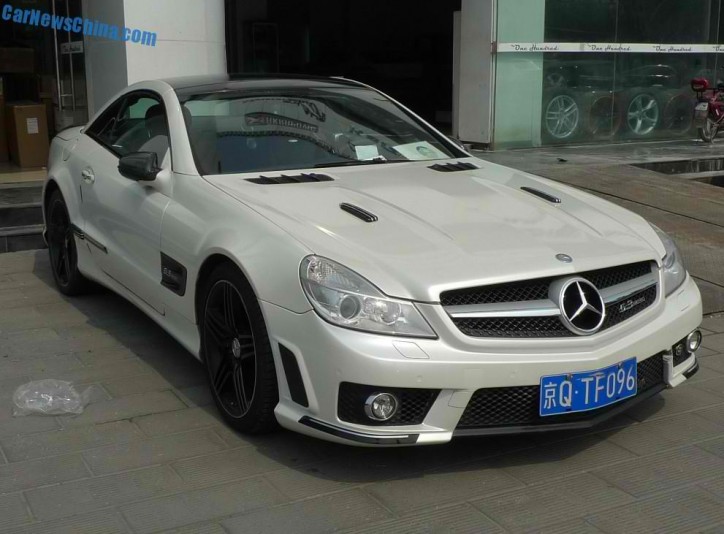 It seems Mercedes-Benz is getting a lot of action in China lately. Aside from the exclusive variants of the three-pointed star marque in the country and government officials probing the company, sales are doing great in the area too. Last month, Mercedes-Benz increased its sales in the region by 24 percent on a year-on-year comparison.
In Beijing alone, you can find a lot of Mercedes-Benz in the roads, given the number of wealthy individuals in the area. Recently, a pearly-white Mercedes-Benz SL63 AMG (pictured above) was spotted at the Beijing Tuning Street by Car News China, and it shared the photos of the car through its blog.
The merchandise came without any wrapping, just a pearl-colored paint. Then, it was fitted with an impressive body kit, including a black roof, partly-tinted mirrors, very low front spoiler, LED strips, air vents, side skirts, fake air intakes in the hood, and five triple-spoke wheels with silver-alloy material. The 6.3 badges and AMG letterings were also emblazoned strategically in some areas of its surface.
There was no word if the engine of the featured Mercedes-Benz SL63 AMG has been modified in any way. But if the 6.3 badges were to serve as an indication of what's under the hood, the unadulterated AMG-developed engine of the SL63 is a naturally-aspirated 6.3 liter V8. The output of which is 518 hp and 630 Nm of torque. All that power enable the car to build up a top speed of 280 km/h, and achieve a sprint of zero to 100 km/h in only 4.4 seconds. With the addition of the added aerodynamic package, this pearl-finish Mercedes-Benz SL63 AMG might be able to go faster than the said time.