Giancarlo Perlas
September 2, 2014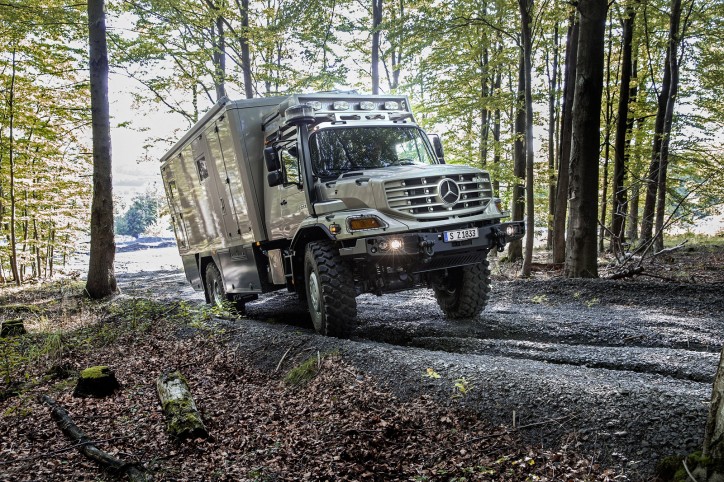 The Mercedes-Benz Zetros is a truck capable of conquering harsh off-road conditions. This is the reason why it is preferred by companies as their medium in transporting goods from one point to another. The vehicle is also one of the favorites of some of the world's armed forces due to its versatility.
It is very rare or unusual to see one fitted with a luxurious cabin because its massive frame does not exactly match an executive ride. Usually, the Mercedes-Benz vehicles which are transformed into cozy dwelling places are the Sprinter, Vito, and V-Class types. The latest examples of these are the Marco Polo, Marco Polo ACTIVITY and Brabus Business Lounge.
However, the collaboration of the specialists at Hartmann Spezialkarosserien and Hünerkopf showed that the Mercedes-Benz Zetros is not only good for hauling a platoon or heavy products. The tuners combined their skills to modify the truck into a luxurious apartment complete with L-shaped comfy seats, bathroom and washroom, toilet, kitchenette, plus double beds.
Hartman was the one responsible for modifying the body of the truck while Hünerkopf took care of the interior equipment. Overall, the living area mounted at the rear of the truck measures 220.5-inch in length and 94.5-inch wide.
The high-class interior of the vehicle are embellished with breathable genuine leather, lightweight decorative stones and authentic veneer, among others. In addition, the technologies present in the mobile dwelling place are LED screen, Internet connection, Bose sound system and automatic satellite dish.
The occupants of the truck do not need to worry about getting stuck in a long journey for a long period too. The vehicle can carry as much as 300 liters of fresh water and 600-liters of fuel. Moreover, it has a power generator and solar-powered backup batteries.
Inside the hood of the truck rests a 7.2-liter inline six-cylinder diesel engine. The output of the engine is at 322 hp. Then, power is distributed through its six-speed automatic transmission gearbox.
Going to the exterior, it does not take a careful investigation to notice that the truck has a dwelling place inside. It's luxury features are not that obvious though.
In all, the tuners did a great job in the exterior design of the truck, except for the bulging portion of the cabin in its left side, which seems to violate its symmetry.